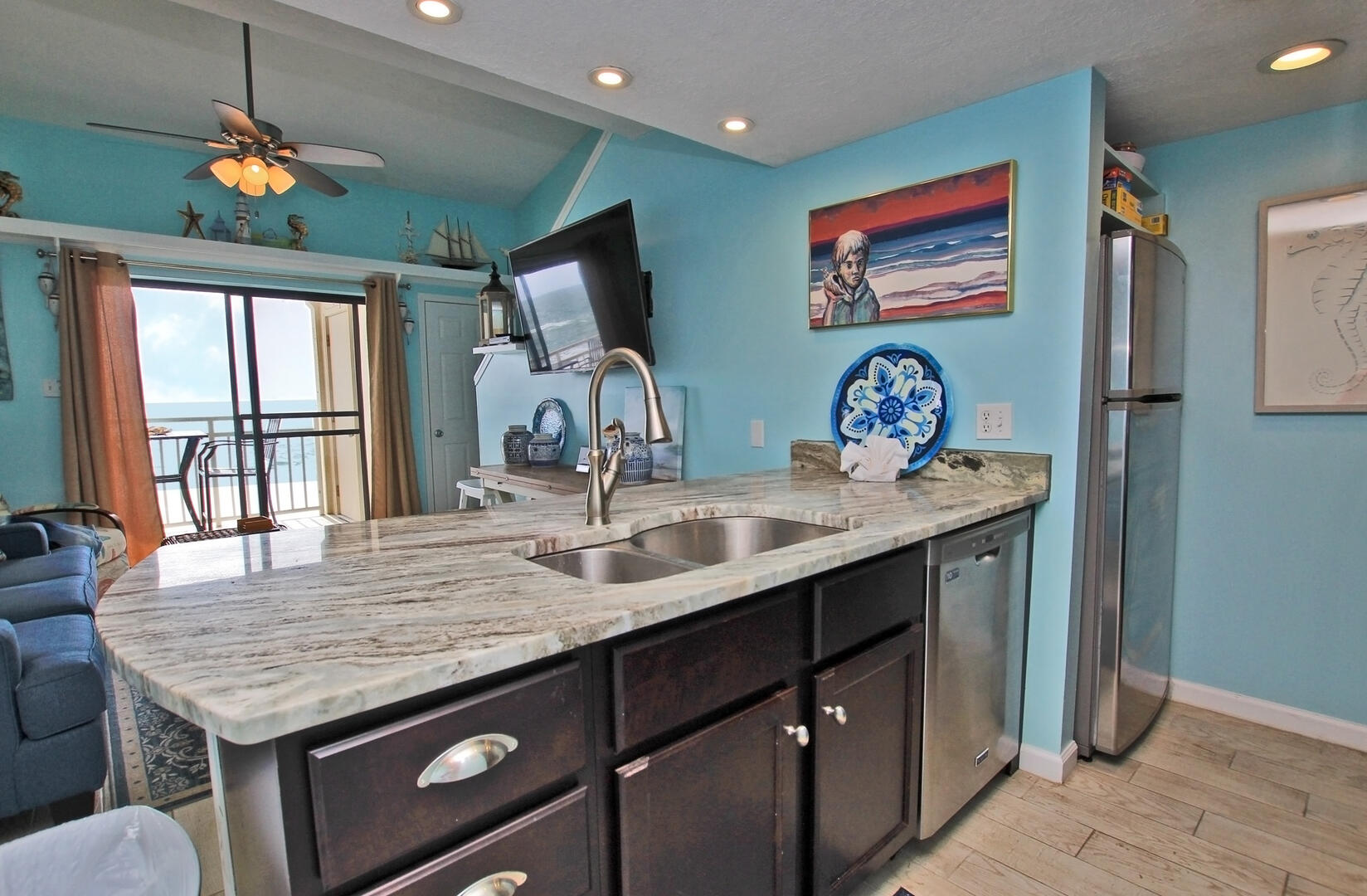 This 1-bedroom 2-bathroom condo at Sugar Beach is a perfect spot for a romantic getaway for two or a fun trip for a small family. Located in Orange Beach, this condo looks directly over the Gulf of Mexico from the 3rd floor and offers tile flooring throughout the condo. The living room is a cozy space with a queen sleeper sofa, wall-mounted flat screen television and access to the gulf front balcony. The kitchen is fully equipped with stainless steel appliances, granite counter tops and a breakfast bar that offers seating for two. The beach front balcony features additional dining seating for two with an outdoor table and chairs set. You can listen to the surf while relaxing on your private balcony with a cup of coffee in the morning. The master en suite is located on the second floor of this condo and features a king size bed, wall-mounted flat screen television, single sink granite top vanity and walk-in shower. This condo also has a stacked washer and dryer located conveniently in the condo.

Sugar Beach is situated close to everything, yet far enough away for a more relaxed atmosphere. This low-density complex offers free WI-FI, two outdoor swimming pools, one children's pool, tennis court, and a picnic area with five outdoor grills plus picnic tables. The area offers fishing, boating and a wide variety of restaurants and shopping.

This is a non-smoking unit. Only one (1) vehicle allowed. Must be 25 to rent this condo.

Bedding:
Master - 1 King
Living Room - 1 Queen Sleeper Sofa
Unit Location : Close to Elevator
Area : Orange Beach
Sleep Cap : 4
Bedrooms : 1.00
Internet Type : Free Public WiFi
Square Ft. :
Master Bedroom : King
Building Orientation : Gulf Side
ilink : ilink Booking
Balcony View : Gulf Front
Number Bathrooms : 2.0
Complex : Sugar Beach
TV - Unit : 2
Number of Beds : 2
Pool - Outdoor : Yes
Pool - Childrens : Yes
BBQ Grills : Yes
Elevator : Yes
Parking Limit : 1 Vehicle
Rental Type : Condo
Sleeps : 4
Age Requirement : 25
Long Term : No
Pet Policy : No Pets
Pet Restriction : No Pets
Parking - Guest Purchase :
Thank you for submitting your review. It will be processed shortly!
January 3, 2022 - Website
Short walk to the pools and beach!
by Charlotte R
Nice decor, comfortable king bed with ceiling fan. Love the view of the gulf from the balcony.- Reviewed on VRBO
October 24, 2021 - Website
Excellent place
by Timothy S
Excellent place on the beach. Close to everything we were looking for and wanted to do. Very much enjoyed the place. We will be back. Thanks
September 11, 2021 - Website
We had a great time! The condo was clean and accommodating. We loved how accessible it was to the beach. Thank you.
September 2022
S
M
T
W
T
F
S
01
02
03
04
05
06
07
08
09
10
11
12
13
14
15
16
17
18
19
20
21
22
23
24
25
26

$140

27

$140

28
29
30

$155
October 2022
S
M
T
W
T
F
S
01

$150

02

$140

03

$140

04

$140

05

$140

06
07
08
09
10
11
12
13

$150

14

$170

15

$140

16
17
18
19
20
21
22

$140

23

$140

24

$140

25

$140

26

$140

27

$140

28

$140

29

$140

30

$140

31

$140
November 2022
S
M
T
W
T
F
S
01

$140

02

$140

03

$140

04

$140

05

$140

06

$140

07

$140

08

$140

09

$140

10

$140

11

$140

12

$140

13

$140

14

$140

15

$140

16

$140

17

$140

18

$140

19

$140

20

$140

21

$155

22

$150

23

$180

24

$190

25

$195

26

$190

27

$170

28

$140

29

$140

30

$140
December 2022
S
M
T
W
T
F
S
01

$140

02

$140

03

$140

04

$140

05

$140

06

$140

07

$140

08

$140

09

$140

10

$140

11

$140

12

$140

13

$140

14

$140

15

$140

16

$140

17

$140

18

$140

19

$140

20

$140

21

$140

22

$140

23

$185

24

$190

25

$195

26

$200

27

$205

28

$225

29

$230

30

$240

31

$240
January 2023
S
M
T
W
T
F
S
01

$245

02

$240

03

$240

04

$140

05

$140

06

$140

07

$140

08

$140

09

$140

10

$140

11

$140

12

$140

13

$140

14

$140

15

$140

16

$140

17

$140

18

$140

19

$140

20

$140

21

$140

22

$140

23

$140

24

$140

25

$140

26

$140

27

$140

28

$140

29

$140

30

$140

31

$140
February 2023
S
M
T
W
T
F
S
01

$140

02

$140

03

$140

04

$140

05

$140

06

$140

07

$140

08

$140

09

$140

10

$140

11

$140

12

$140

13

$140

14

$140

15

$140

16

$145

17

$160

18

$160

19

$155

20

$140

21

$145

22

$185

23

$190

24

$190

25

$185

26

$180

27

$160

28

$155
March 2023
S
M
T
W
T
F
S
01

$155

02

$155

03

$155

04

$155

05

$155

06

$155

07

$155

08

$155

09

$155

10

$210

11

$210

12

$205

13

$195

14

$200

15

$205

16

$205

17

$210

18

$190

19

$190

20

$190

21

$195

22

$195

23

$195

24

$200

25
26
27
28
29
30
31
April 2023
S
M
T
W
T
F
S
01
02
03
04
05
06
07
08
09
10
11
12
13
14
15
16

$250

17

$165

18

$165

19

$160

20

$185

21

$205

22

$220

23

$185

24

$165

25

$170

26

$160

27

$185

28

$215

29

$230

30

$180
May 2023
S
M
T
W
T
F
S
01

$170

02

$170

03

$165

04

$195

05

$230

06

$240

07

$195

08

$180

09

$170

10

$170

11

$200

12

$235

13

$240

14

$205

15

$195

16

$190

17

$195

18

$375

19

$415

20

$420

21

$390

22

$235

23

$230

24

$240

25

$270

26

$395

27

$395

28

$365

29
30
31
June 2023
S
M
T
W
T
F
S
01
02
03

$320

04

$295

05

$305

06

$305

07

$320

08

$335

09

$345

10

$345

11

$325

12

$335

13

$335

14

$345

15

$350

16

$360

17

$355

18

$345

19

$355

20

$355

21

$350

22

$355

23

$360

24

$350

25

$330

26

$340

27

$340

28

$340

29

$365

30

$375
July 2023
S
M
T
W
T
F
S
01

$375

02

$365

03

$375

04

$375

05

$370

06

$375

07

$380

08

$365

09

$350

10

$355

11

$360

12

$365

13

$365

14

$370

15

$365

16

$350

17

$355

18

$355

19

$360

20

$360

21

$370

22

$365

23

$350

24

$350

25

$350

26

$350

27

$350

28

$365

29

$355

30

$330

31

$330
August 2023
S
M
T
W
T
F
S
01

$325

02

$325

03

$330

04

$345

05

$340

06

$310

07

$305

08

$300

09

$290

10

$300

11

$315

12

$305

13

$260

14

$250

15

$240

16

$235

17

$245

18

$260

19

$250

20

$205

21

$190

22

$185

23

$185

24

$200

25

$215

26

$215

27

$170

28

$155

29

$155

30

$160

31

$180
September 2023
S
M
T
W
T
F
S
01

$335

02

$340

03

$300

04

$275

05

$155

06

$160

07

$180

08

$205

09

$215

10

$170

11

$155

12

$155

13

$160

14

$180

15

$205

16

$210

17

$165

18

$155

19

$155

20

$155

21

$160

22

$190

23

$195

24

$155

25

$155

26

$155

27

$155

28

$160

29

$195

30

$190