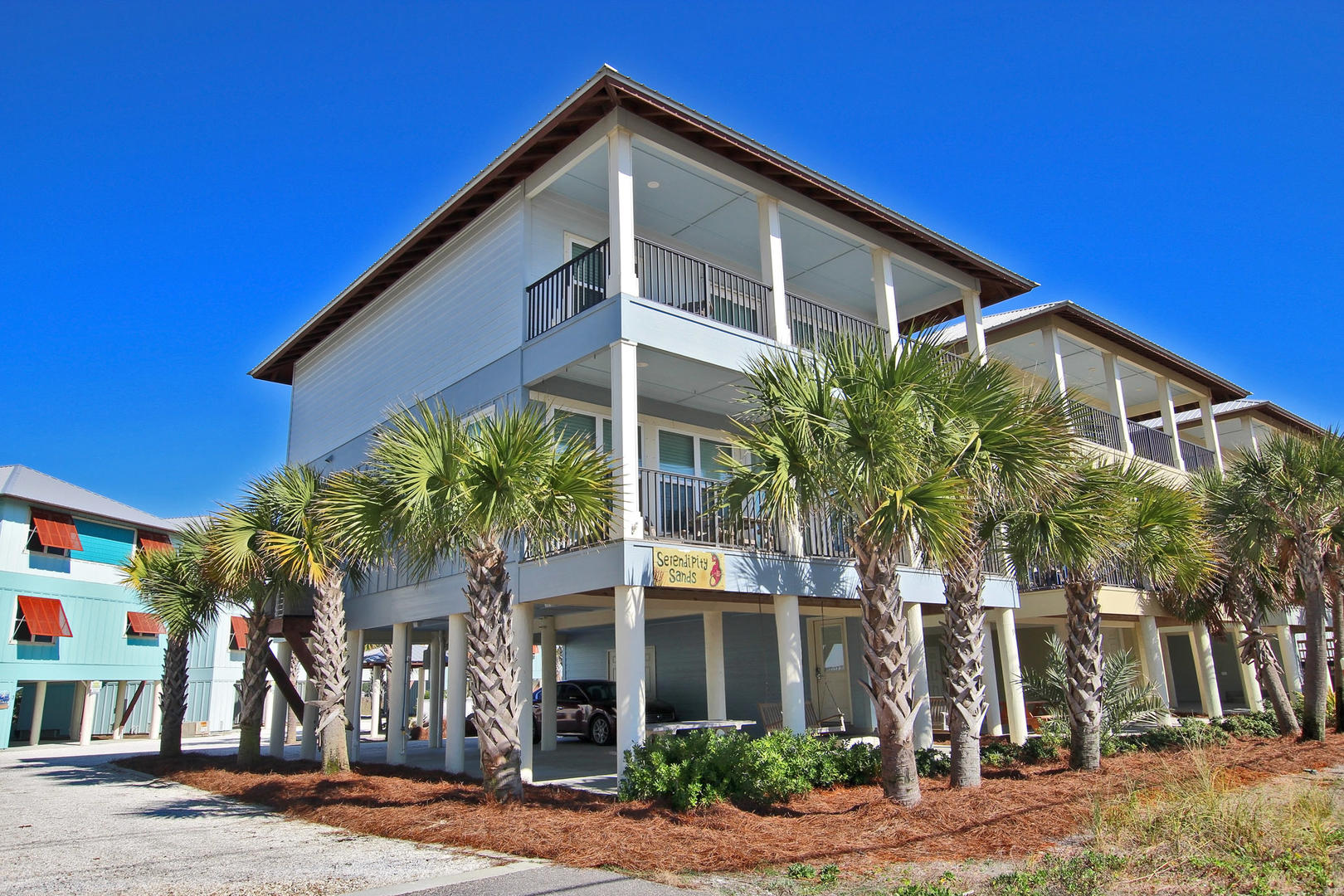 Live the beach life at Serendipity Sands! Located in the Pass Time Cottages Community on West Beach in Gulf Shores, this 4-bedroom coastal hideaway can sleep up to 14 people. Enjoy all the comforts of home with the tropical oasis inspired furnishings and brand-new appliances. The living area invites you and your family to make magical memories while soaking up the natural sunlight from the private balcony access, or while watching your favorite shows on the 55-inch flat screen television. When it is time to enjoy a freshly prepared meal you will have everything you need in the fully equipped kitchen.

Feeling a little sleepy from your busy day at the beach? Make your way to the cozy king size bed in the master bedroom. There is private balcony access to a balcony if you want to let in the salty breeze, and a flat screen television so you can just kick back and relax. The master bathroom has a his and hers sink and counter area, as well as a walk-in shower. In the first guest bedroom upstairs there is a queen size bed and a private bathroom with a tub/shower combination. The second guest bedroom also located on the second floor has two sets of twin over twin bunk beds. There is a private bathroom for this room as well with a tub/shower combination and a walk-in closet. The third guest bedroom on the first floor has a queen size bed and has access to the full guest bathroom which also has a tub/shower combination. This beach house has flat screen televisions with cable in every bedroom as well as free WiFi connections. If additional sleeping arrangements are needed there is a queen size sofa sleeper in the living room.

Parking for up to four vehicles beneath the home. The outdoor community pool is footsteps away from the front door and is heated from March 1 - May 1. The beach access is to the west of the home and does not require you to cross the street. You may also choose to stay on the lagoon side and watch the kids catch hermit crabs.
This is a non-smoking property and pets are not permitted. You must be 25 years of age or older to rent. No monthly rates are allowed.

Bedding:
Master- King
Bedroom 1- Queen
Bedroom 2- 2 sets of twin over twin bunks
Bedroom 3 - Queen
Living Room-2 Sofa Sleeper

1632 West Beach Blvd #9, Gulf Shores, AL.

Area : Gulf Shores
Sleep Cap : 14
Bedrooms : 4.00
Internet Type : Free Unit WiFi
Square Ft. : 2084
Master Bedroom : King
Building Orientation : Across the Street
Guest Bedroom 1 : Queen
Guest Bedroom 2 : Queen
Guest Bedroom 3 : 2 Twin/Twin Bunk Beds
ilink : ilink Booking
Balcony View : Across the Street - Gulf View
Number Bathrooms : 4.0
Complex : House
TV - Unit : 5
Number of Beds : 4
Pool - Outdoor : Yes
Rental Type : House
Sleeps : 14
Age Requirement : 25
Long Term : No
Pet Policy : No Pets
Pet Restriction : No Pets
Parking - Guest Purchase :
Thank you for submitting your review. It will be processed shortly!
July 18, 2022 - Manual Entry
We enjoyed our stay at the property . Very clean and easy access to beach .- Reviewed on VRBO
We stayed at the Serendipity Sands unit 9. It was a fabulous place with plenty of room for the kids and adults. I will be staying here again and recommending it to my friends.
Great Beach House
by Steve W
We had a great stay at Serendipity Sands. It was very clean and spacious. Outside decks were big with plenty of furniture. The walk to the beach isn't ideal but isn't awful either. Took about 6-7 minutes to get on to the beach and to get down away from the canal area. Beach was not too crowded. Someone requested a grill in an earlier review & a charcoal grill has been added. Beware if you have a rooftop carrier, you might have to take it off to get under the carport. Luckily ours fit barely. Sound is fun at night for kids to crab hunt. Quiet neighborhood the week we were there. Would definitely stay here again. - Reviewed on VRBO
October 2022
S
M
T
W
T
F
S
01
02
03
04

$235

05

$245

06

$290

07

$498

08

$546

09

$492

10
11
12
13

$250

14

$255

15

$310

16

$240

17

$220

18

$220

19

$225

20

$265

21

$285

22

$295

23

$220

24

$220

25

$220

26

$220

27

$230

28

$230

29

$230

30

$220

31

$220
November 2022
S
M
T
W
T
F
S
01

$220

02

$220

03

$220

04

$220

05

$220

06

$220

07

$220

08

$220

09

$220

10

$220

11

$220

12

$220

13

$220

14

$220

15

$220

16

$220

17

$220

18

$220

19

$220

20

$220

21

$265

22

$275

23

$285

24
25
26

$300

27

$285

28

$220

29

$220

30

$220
December 2022
S
M
T
W
T
F
S
01

$220

02

$220

03

$220

04

$220

05

$220

06

$220

07

$220

08

$220

09

$220

10

$220

11

$220

12

$220

13

$220

14

$220

15

$220

16

$220

17

$220

18

$220

19

$220

20

$220

21

$220

22

$220

23

$285

24

$290

25

$295

26

$300

27

$305

28

$335

29

$345

30

$350

31

$360
January 2023
S
M
T
W
T
F
S
01

$365

02

$365

03

$370

04

$220

05

$220

06

$220

07

$220

08

$220

09

$220

10

$220

11

$220

12

$225

13

$230

14

$235

15

$235

16

$235

17

$220

18

$220

19

$220

20

$230

21

$235

22

$230

23

$225

24

$225

25

$235

26

$240

27

$250

28

$255

29

$250

30

$245

31

$245
February 2023
S
M
T
W
T
F
S
01

$260

02

$260

03

$280

04

$285

05

$270

06

$265

07

$265

08

$280

09

$280

10

$300

11

$300

12

$280

13

$270

14

$265

15

$280

16

$330

17

$355

18

$350

19

$335

20

$330

21

$270

22

$280

23

$290

24

$305

25

$310

26

$295

27

$290

28

$285
March 2023
S
M
T
W
T
F
S
01

$285

02

$335

03

$345

04

$365

05

$345

06

$350

07

$350

08

$340

09

$355

10

$480

11

$495

12

$490

13

$490

14

$495

15

$475

16

$470

17

$490

18

$465

19

$460

20

$465

21

$475

22

$455

23

$450

24

$465

25

$485

26
27
28
29
30
31
April 2023
S
M
T
W
T
F
S
01

$540

02

$555

03

$530

04

$560

05

$515

06

$600

07

$595

08

$590

09

$570

10

$525

11

$555

12

$505

13

$530

14

$540

15

$575

16

$530

17

$325

18

$350

19

$325

20

$350

21

$375

22

$420

23

$345

24

$340

25

$340

26

$330

27

$345

28

$380

29

$425

30

$355
May 2023
S
M
T
W
T
F
S
01

$350

02

$350

03

$355

04

$375

05

$410

06

$450

07

$390

08

$390

09

$385

10

$395

11

$405

12

$440

13

$485

14

$430

15

$435

16

$440

17

$455

18

$930

19

$975

20

$1020

21

$970

22

$510

23

$520

24

$530

25

$545

26

$790

27

$835

28

$780

29

$810

30

$615

31

$625
June 2023
S
M
T
W
T
F
S
01

$640

02

$665

03

$695

04

$645

05

$680

06

$690

07

$695

08

$710

09

$720

10

$735

11

$715

12

$735

13

$740

14

$745

15

$755

16

$760

17

$765

18

$800

19

$810

20

$815

21

$765

22

$765

23

$760

24

$755

25

$745

26

$745

27

$740

28

$740

29

$780

30

$780
July 2023
S
M
T
W
T
F
S
01

$780

02

$780

03

$785

04

$785

05

$795

06

$790

07

$800

08

$775

09

$790

10

$795

11

$805

12

$810

13

$815

14

$820

15

$825

16

$830

17

$835

18

$835

19

$830

20

$830

21

$825

22

$825

23

$820

24

$830

25

$825

26

$830

27

$825

28

$815

29

$810

30

$795

31

$800
August 2023
S
M
T
W
T
F
S
01

$790

02

$790

03

$790

04

$785

05

$780

06
07
08
09
10
11
12
13

$650

14

$635

15

$610

16

$600

17

$625

18

$640

19

$590

20

$530

21

$505

22

$495

23

$490

24

$530

25

$550

26

$515

27

$460

28

$430

29

$430

30

$425

31

$475
September 2023
S
M
T
W
T
F
S
01

$705

02

$660

03

$630

04

$595

05

$410

06

$410

07

$460

08

$510

09

$465

10

$425

11

$395

12

$400

13

$400

14

$435

15

$480

16

$435

17

$390

18

$350

19

$350

20

$350

21

$385

22

$425

23

$400

24

$355

25

$335

26

$345

27

$360

28

$395

29

$420

30

$430
October 2023
S
M
T
W
T
F
S
01

$375

02

$350

03

$340

04

$360

05

$400

06

$705

07

$730

08

$660

09

$640

10

$340

11

$365

12

$405

13

$410

14

$405

15

$315

16

$285

17

$275

18

$295

19

$345

20

$365

21

$350

22

$270

23

$250

24

$250

25

$250

26

$280

27

$285

28

$275

29

$250

30

$250

31

$250