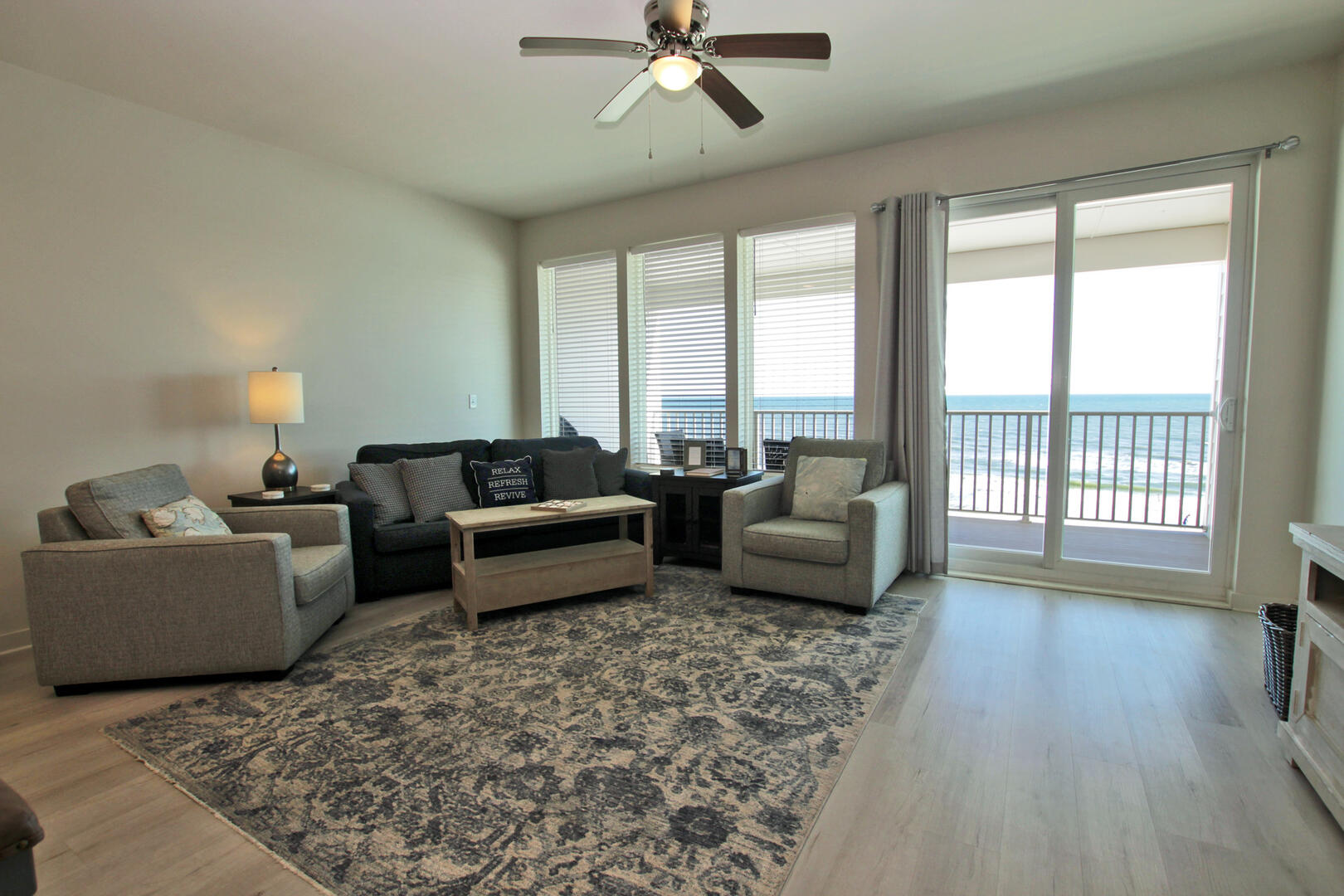 **Due to construction on the property, there are times the pool may be unavailable to guests, noise can be expected in the mornings and into the evenings**

Sea Glass in Gulf Shores offers fun for the entire family. A zero-entry pool with fountains to splash and play in as well as a small sunbathing deck on the deep end. There is a wading pool for the little ones to enjoy. With direct beach access you will not have to travel far to have your toes in the sand. There is covered parking for up to 1 vehicle. This condo has a washing machine and dryer as well as Wi-Fi so you can make yourself right at home.

Everything you need is just a short walk or drive away. Pier 33 convenience store is right across the street and many local restaurants are in the area for you to choose from. Shopping, nightlife, and fun for the entire family awaits. Grab your flip flops and head to Sea Glass Gulf Shores!

The primary renter must be 25 years of age or older and be present during the duration of the stay. This is a non-smoking property, and no pets are permitted.
1 vehicle maximum allowed. Only one parking pass will be given for each reservation.

Bedding:
Master- King
Bedroom 2- Twin over Full Bunk Bed
Living Room Sofa Sleeper Queen
Unit Location : Center
Area : Gulf Shores
Sleep Cap : 7
Bedrooms : 2.00
Internet Type : Free Public WiFi
Square Ft. : 954
Master Bedroom : King
Building Orientation : Gulf Side
Guest Bedroom 1 : Twin/Full Bunk Beds
ilink : ilink Booking
Balcony View : Gulf Front
Number Bathrooms : 1.5
Complex : Sea Glass
TV - Unit : 3
Number of Beds : 3
Pool - Outdoor : Yes
Jacuzzi : Yes
BBQ Grills : Yes
Elevator : Yes
Parking Limit : 1 Vehicle
Rental Type : Condo
Sleeps : 7
Age Requirement : 25
Long Term : No
Pet Policy : No Pets
Pet Restriction : No Pets
Parking - Guest Purchase : One car per unit
Thank you for submitting your review. It will be processed shortly!
September 22, 2022 - Manual Entry
Love Gulf Shores
by Beth and Ken Y
Would definitely stay there again. Love Gulf Shores! Our coffee pot was not functional but the staff quickly replaced it to our surprise. We were very pleased.
Thank you so much for great service & pricing. Hope to hook up again in the future.
September 13, 2022 - Airbnb
This stay was heavenly! Exactly as portrayed in the ad (my wife says 'better than') Super convenient, gorgeous views, completely comfortable!! We love us some Sea Glass!! - Reviewed on Airbnb



September 12, 2022 - Website
SeaGlass 403
by Beth Y. (MO)
Stayed here 5 days on a WONDERFUL getaway! Very beautiful & peaceful! Great views of the beach, nice having morning coffee on the deck. Loved every minute of it and close to everything we wanted!!! Would love to return one day!!!
We had a great "long weekend" stay at SeaGlass 403! This cozy condo is quiet, freshly decorated, and had everything we needed. The pictures are representative of the unit. It is also so convenient to the beach, restaurants and shopping. We even walked to dinner two of the nights! We would stay here again!
Sea Glass 403
by Brenda S
October 2022
S
M
T
W
T
F
S
01
02
03

$160

04
05
06
07
08
09
10
11
12
13
14

$160

15

$180

16

$160

17

$160

18

$160

19

$160

20
21
22
23

$160

24

$160

25

$160

26

$160

27

$160

28

$160

29

$160

30

$160

31

$160
November 2022
S
M
T
W
T
F
S
01

$160

02

$160

03

$160

04

$160

05
06
07
08
09
10
11

$160

12

$160

13

$160

14

$160

15

$160

16

$160

17

$160

18

$160

19

$160

20

$160

21

$170

22

$175

23

$170

24

$175

25

$185

26

$180

27

$165

28

$160

29

$160

30

$160
December 2022
S
M
T
W
T
F
S
01

$160

02

$160

03

$160

04

$160

05

$160

06

$160

07

$160

08

$160

09

$160

10

$160

11

$160

12

$160

13

$160

14

$160

15

$160

16

$160

17

$160

18

$160

19

$160

20

$160

21

$160

22

$160

23

$180

24

$180

25

$180

26

$185

27
28
29
30
31
January 2023

| S | M | T | W | T | F | S |
| --- | --- | --- | --- | --- | --- | --- |
| 01 | 02 | 03 | 04 | 05 | 06 | 07 |
| 08 | 09 | 10 | 11 | 12 | 13 | 14 |
| 15 | 16 | 17 | 18 | 19 | 20 | 21 |
| 22 | 23 | 24 | 25 | 26 | 27 | 28 |
| 29 | 30 | 31 | | | | |
February 2023

| S | M | T | W | T | F | S |
| --- | --- | --- | --- | --- | --- | --- |
| | | | 01 | 02 | 03 | 04 |
| 05 | 06 | 07 | 08 | 09 | 10 | 11 |
| 12 | 13 | 14 | 15 | 16 | 17 | 18 |
| 19 | 20 | 21 | 22 | 23 | 24 | 25 |
| 26 | 27 | 28 | | | | |
March 2023
S
M
T
W
T
F
S
01

$205

02

$230

03

$245

04

$260

05

$245

06

$245

07

$245

08

$240

09

$240

10

$320

11

$335

12

$325

13

$320

14

$325

15

$315

16

$310

17

$325

18

$315

19

$305

20

$305

21

$310

22

$295

23

$300

24

$310

25

$330

26

$340

27

$330

28

$350

29

$330

30

$335

31

$350
April 2023
S
M
T
W
T
F
S
01

$365

02

$365

03

$345

04

$360

05

$330

06

$375

07

$375

08

$370

09

$355

10

$330

11

$345

12

$325

13

$325

14

$345

15

$345

16

$325

17

$200

18
19
20
21

$240

22

$245

23

$205

24

$200

25

$205

26

$210

27

$215

28

$245

29

$255

30

$205
May 2023
S
M
T
W
T
F
S
01

$210

02

$210

03

$215

04

$230

05

$260

06

$270

07

$225

08

$225

09

$225

10

$235

11

$245

12

$285

13

$300

14

$260

15

$265

16

$260

17

$270

18

$580

19

$625

20

$645

21

$600

22

$310

23

$310

24

$315

25

$330

26

$495

27

$530

28

$475

29

$490

30

$365

31

$370
June 2023
S
M
T
W
T
F
S
01

$385

02

$420

03

$440

04

$400

05

$415

06

$420

07

$425

08

$435

09

$445

10

$455

11

$435

12

$445

13

$450

14

$450

15

$460

16

$460

17

$460

18

$475

19

$485

20

$490

21

$460

22

$465

23

$465

24

$465

25

$455

26

$465

27

$465

28

$465

29

$490

30

$490
July 2023
S
M
T
W
T
F
S
01

$495

02

$485

03

$495

04

$495

05

$500

06

$500

07

$500

08

$485

09

$480

10

$485

11

$485

12

$485

13

$495

14

$490

15

$495

16

$485

17

$495

18

$500

19

$500

20

$500

21

$500

22

$500

23

$485

24

$505

25

$500

26

$505

27

$510

28

$500

29

$495

30

$475

31

$490
August 2023
S
M
T
W
T
F
S
01

$480

02

$480

03

$485

04

$475

05

$470

06

$440

07

$435

08

$425

09

$425

10

$430

11

$435

12

$410

13

$370

14

$365

15

$350

16

$350

17

$360

18

$365

19

$345

20

$300

21

$285

22

$280

23

$275

24

$295

25

$305

26

$300

27

$255

28

$240

29

$235

30

$235

31

$260
September 2023
S
M
T
W
T
F
S
01

$395

02

$395

03

$360

04

$350

05

$225

06

$225

07

$250

08

$265

09

$270

10

$235

11

$230

12

$225

13

$220

14

$240

15

$255

16

$260

17

$230

18

$225

19

$215

20

$215

21

$235

22

$250

23

$250

24

$225

25

$215

26

$215

27

$215

28

$235

29

$255

30

$260
October 2023
S
M
T
W
T
F
S
01

$230

02

$215

03

$220

04

$230

05

$255

06

$455

07

$440

08

$410

09

$395

10

$210

11

$215

12

$235

13

$245

14

$230

15

$200

16

$185

17

$180

18

$185

19

$200

20

$205

21

$195

22

$180

23

$180

24

$180

25

$180

26

$180

27

$180

28

$180

29

$180

30

$180

31

$180