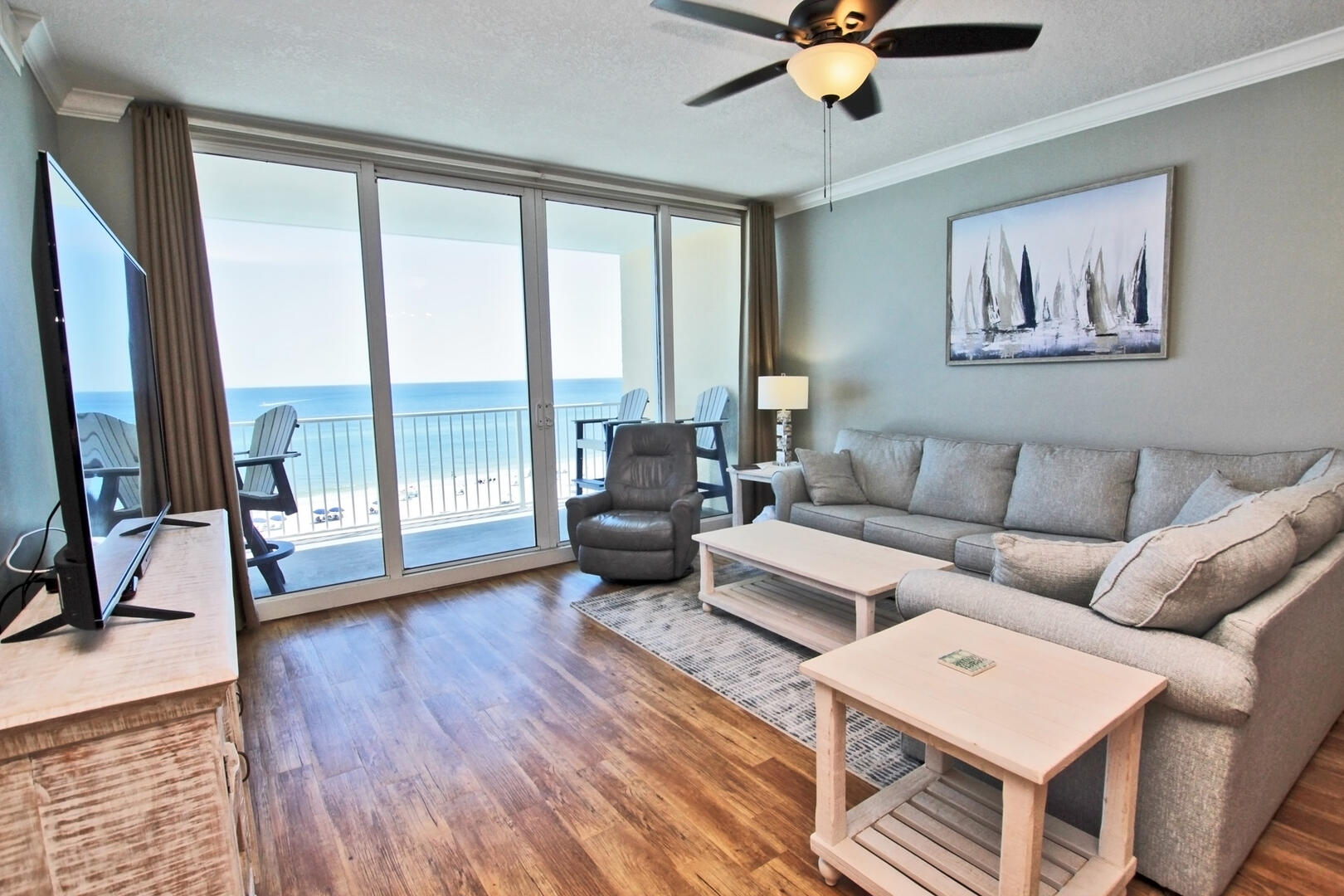 San Carlos 608, this adorable two bedroom Gulf front condo is beautiful. From the fully stocked kitchen with granite counter tops for meal preparation to the breathtaking view of the sugar white sand and turquoise water. Floor to ceiling sliding glass doors that open to the extra-large balcony that has plenty of seating for everyone to watch dolphins play in the Gulf or the sun rise and set. Wood plank laminate flooring throughout the condo only enhances the beautiful d?cor the owner carefully chose. The master bedroom offers a king size bed, flat screen TV, adjoining bathroom with a walk in shower and a Jacuzzi tub. Sliding glass doors in the master enter onto the balcony. To enhance your vacation stay the property there is an immaculate zero entry pool, the perfect way to enter the pool. The state of the art exercise room faces the gulf with floor to ceiling windows and a sauna to pamper yourself after your workout. BBQ grill and Wi-Fi. San 608 is walking distance to The Hangout, restaurants, shops and attractions.
No Smoking Common Areas, Pool, Hallways, Parking Decks, Balconies, etc A smoking area is on the east side outside the 1st floor parking garage. No boats, RV's or trailers are permitted

Free Public WiFi in all condos, public areas, and even as far as the beach!


You must be 25 years of age or older to reserve this unit.

Area : Gulf Shores
Sleep Cap : 6
Bedrooms : 2.00
Internet Type : Free Public WiFi
Square Ft. : 1229
Master Bedroom : King
Building Orientation : Gulf Side
Guest Bedroom 1 : Queen
ilink : ilink Booking
Balcony View : Gulf Front
Number Bathrooms : 2.0
Complex : San Carlos
TV - Unit : 3
Number of Beds : 3
Pool - Outdoor : Yes
Fitness Room : Yes
Sauna : Yes
BBQ Grills : Yes
Elevator : Yes
Parking Limit : 2 Vehicles
Rental Type : Condo
Sleeps : 6
Age Requirement : 25
Long Term : No
Pet Policy : No Pets
Pet Restriction : No Pets
Parking - Guest Purchase :
Thank you for submitting your review. It will be processed shortly!
We loved our stay at San Carlos 608. It is a perfect location and so nice. We loved the decor and amenities! 100% recommend this property. Young Suncoast was fantastic at communicating! We will be back!
August 22, 2021 - Website
Just like the pictures
by Toby W
The Condo was great Wish there was some dishwashing soap there so we could tidy dishes up.
October 2022
S
M
T
W
T
F
S
01
02
03

$170

04

$170

05

$170

06

$180

07
08
09
10
11
12
13

$170

14

$170

15

$190

16
17
18
19
20
21
22
23
24
25
26
27
28
29
30

$170

31

$170
November 2022
S
M
T
W
T
F
S
01

$170

02

$170

03

$170

04
05
06
07
08
09
10

$170

11

$170

12

$170

13

$170

14

$170

15

$170

16

$170

17

$170

18

$170

19

$170

20
21
22
23
24
25
26
27

$205

28

$170

29

$170

30

$170
December 2022
S
M
T
W
T
F
S
01

$170

02

$170

03

$170

04

$170

05

$170

06

$170

07

$170

08

$170

09

$170

10

$170

11

$170

12

$170

13

$170

14

$170

15

$170

16

$170

17

$170

18

$170

19

$170

20

$170

21

$170

22

$170

23

$180

24

$175

25

$180

26

$180

27

$185

28

$205

29

$210

30

$210

31

$205
January 2023
S
M
T
W
T
F
S
01

$215

02

$220

03

$220

04

$170

05

$170

06

$170

07

$170

08

$170

09

$170

10

$170

11

$170

12

$170

13

$170

14

$170

15

$170

16

$175

17

$170

18

$170

19

$170

20

$170

21

$170

22

$170

23

$170

24

$170

25

$170

26

$170

27

$170

28

$170

29

$170

30

$170

31

$170
February 2023
S
M
T
W
T
F
S
01

$170

02

$170

03

$175

04

$180

05

$170

06

$170

07

$170

08

$170

09

$175

10

$185

11

$195

12

$185

13

$180

14

$180

15

$180

16

$210

17

$225

18

$230

19

$225

20

$225

21

$190

22

$255

23

$260

24

$265

25

$215

26

$215

27

$205

28

$200
March 2023
S
M
T
W
T
F
S
01

$205

02

$245

03

$250

04

$255

05

$255

06

$250

07

$245

08

$245

09

$255

10

$325

11

$330

12
13
14
15
16
17
18

$315

19

$315

20

$315

21

$320

22

$315

23

$315

24

$315

25

$330

26
27
28
29
30
31
April 2023
S
M
T
W
T
F
S
01

$375

02

$375

03

$365

04

$365

05

$355

06

$405

07

$395

08

$385

09
10
11
12
13
14
15
16
17
18
19
20
21
22
23
24
25
26
27
28
29

$260

30

$260
May 2023
S
M
T
W
T
F
S
01

$250

02

$255

03

$265

04

$305

05

$325

06

$330

07

$290

08

$230

09

$235

10

$250

11

$285

12

$315

13

$325

14

$290

15

$285

16

$290

17

$305

18

$635

19
20
21
22
23

$345

24

$355

25

$380

26

$525

27

$535

28

$515

29

$525

30

$395

31

$410
June 2023
S
M
T
W
T
F
S
01

$430

02

$435

03

$445

04

$435

05

$445

06

$445

07

$455

08

$465

09

$460

10

$465

11

$455

12

$465

13

$470

14

$470

15

$475

16

$475

17

$475

18

$490

19

$500

20

$505

21

$475

22

$480

23

$480

24

$480

25

$470

26

$480

27

$485

28

$480

29

$515

30

$515
July 2023
S
M
T
W
T
F
S
01

$515

02

$510

03

$515

04

$515

05

$515

06

$525

07

$520

08

$500

09

$495

10

$500

11

$500

12

$500

13

$510

14

$515

15

$515

16

$505

17

$520

18

$515

19

$510

20

$525

21

$530

22

$520

23

$500

24

$515

25

$510

26

$505

27

$520

28

$525

29

$515

30

$480

31

$485
August 2023
S
M
T
W
T
F
S
01

$485

02

$475

03

$490

04

$495

05

$480

06

$440

07

$435

08

$430

09

$430

10

$440

11

$445

12

$430

13

$380

14

$375

15

$365

16

$365

17

$375

18

$380

19

$370

20

$315

21

$305

22

$295

23

$295

24

$310

25

$325

26

$315

27

$270

28

$260

29

$250

30

$250

31

$270
September 2023
S
M
T
W
T
F
S
01

$445

02

$440

03

$405

04

$400

05

$230

06

$230

07

$255

08

$280

09

$270

10

$240

11

$240

12

$225

13

$225

14

$245

15

$270

16

$265

17

$235

18

$230

19

$220

20

$220

21

$240

22

$260

23

$255

24

$225

25

$220

26

$220

27

$220

28

$240

29

$260

30

$260
October 2023
S
M
T
W
T
F
S
01

$230

02

$220

03

$230

04

$230

05

$255

06

$430

07

$430

08

$380

09

$370

10

$215

11

$215

12

$235

13

$250

14

$245

15

$195

16

$190

17

$190

18

$190

19

$200

20

$210

21

$205

22

$190

23

$190

24

$190

25

$190

26

$190

27

$190

28

$190

29

$190

30

$190

31

$190