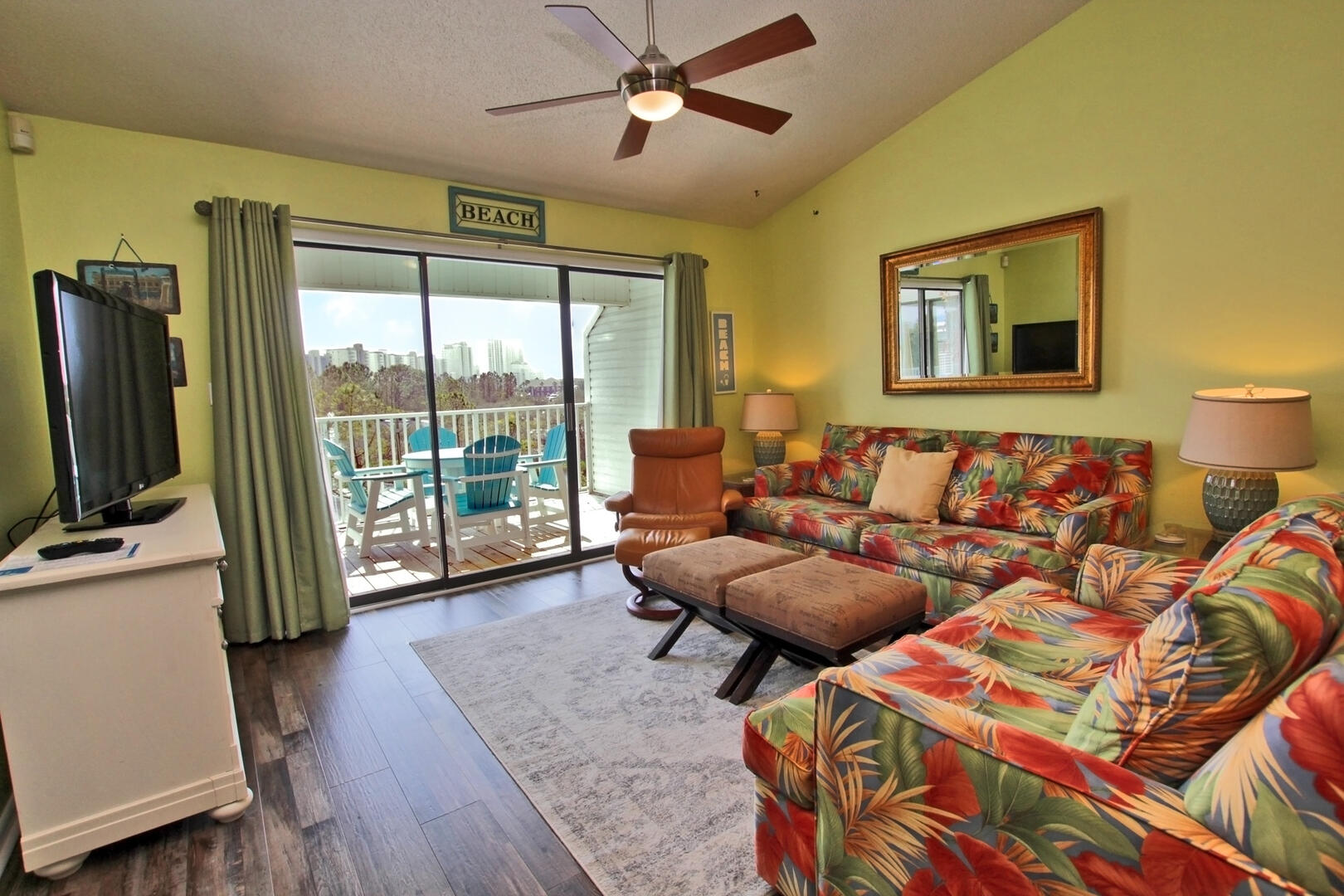 Enjoy time with your family in this newly remodeled 2 bedroom condo. Enjoy the Outdoor pool, or watching the turtles in the pond while you barbecue, or just enjoy the free Wi-Fi! Palmetto is located across the street from the beach with beach access for the condo. Your family may walk to Adventure Island, or Fat Daddy's Arcade without getting in the car. Relax on your private balcony. Don't feel like eating out, cook a meal in your fully stocked kitchen. When it is time to rest enjoy the 2, King size beds, or watch TV on the pull out sofa sleeper. This condo will sleep 6. Interested in staying longer? Monthly rentals are available November 1st -March 1st. Call for details and pricing. Covered parking is available. There is a 2 car limit. Guests must be 25 years of age or older to rent this unit.
Unit Location : Center
Area : Orange Beach
Sleep Cap : 6
Bedrooms : 2.00
Internet Type : Free Unit WiFi
Square Ft. :
Master Bedroom : King
Building Orientation : Across the Street
Guest Bedroom 1 : King
ilink : ilink Booking
Balcony View : Other
Number Bathrooms : 2.0
Complex : Palmetto
TV - Unit : 3
Number of Beds : 2
Pool - Outdoor : Yes
BBQ Grills : Yes
Parking Limit : 2 Vehicles
Rental Type : Condo
Sleeps : 6
Age Requirement : 25
Long Term : No
Pet Policy : No Pets
Pet Restriction : No Pets
Parking - Guest Purchase :
Thank you for submitting your review. It will be processed shortly!
We are sorry, there are no reviews for this unit. Be the first to leave a review!
October 2022
S
M
T
W
T
F
S
01
02
03
04

$110

05

$110

06

$110

07

$110

08

$125

09

$120

10

$110

11
12
13
14
15
16
17
18
19
20
21
22
23

$110

24

$110

25

$110

26

$110

27

$110

28

$110

29

$110

30

$110

31

$110
November 2022
S
M
T
W
T
F
S
01

$110

02

$110

03

$110

04

$110

05

$110

06

$110

07

$110

08

$110

09

$110

10

$110

11

$110

12

$110

13

$110

14

$110

15

$110

16

$110

17

$110

18

$110

19

$110

20

$110

21

$115

22

$115

23

$120

24

$125

25

$125

26

$120

27

$110

28

$110

29

$110

30

$110
December 2022
S
M
T
W
T
F
S
01

$110

02

$110

03

$110

04

$110

05

$110

06
07
08

$110

09

$110

10

$110

11

$110

12

$110

13

$110

14

$110

15

$110

16

$110

17

$110

18

$110

19

$110

20

$110

21

$110

22

$110

23

$110

24

$115

25

$115

26

$120

27

$125

28

$140

29

$145

30

$150

31

$145
January 2023
S
M
T
W
T
F
S
01

$150

02
03
04
05
06
07
08
09
10
11
12
13
14
15
16
17
18
19
20
21
22
23
24
25
26
27
28
29
30
31
February 2023

| S | M | T | W | T | F | S |
| --- | --- | --- | --- | --- | --- | --- |
| | | | 01 | 02 | 03 | 04 |
| 05 | 06 | 07 | 08 | 09 | 10 | 11 |
| 12 | 13 | 14 | 15 | 16 | 17 | 18 |
| 19 | 20 | 21 | 22 | 23 | 24 | 25 |
| 26 | 27 | 28 | | | | |
March 2023
S
M
T
W
T
F
S
01
02
03
04
05
06
07
08
09
10
11
12
13
14
15

$160

16

$155

17

$160

18

$150

19

$155

20

$155

21

$155

22

$155

23

$150

24

$155

25

$160

26

$165

27

$165

28

$170

29

$170

30

$170

31

$170
April 2023
S
M
T
W
T
F
S
01

$180

02

$185

03

$185

04

$185

05

$185

06

$200

07

$205

08

$200

09

$195

10

$185

11

$185

12

$180

13

$180

14

$185

15

$180

16

$165

17

$125

18

$125

19

$125

20

$125

21

$140

22

$135

23

$125

24

$125

25

$125

26

$125

27

$125

28

$140

29

$140

30

$125
May 2023
S
M
T
W
T
F
S
01

$125

02

$125

03

$125

04

$130

05

$145

06

$145

07

$125

08

$125

09

$125

10

$125

11

$135

12

$155

13

$155

14

$140

15

$135

16

$135

17

$140

18

$260

19

$280

20

$285

21

$270

22

$170

23

$165

24

$170

25

$185

26

$270

27

$275

28

$260

29

$265

30

$195

31

$200
June 2023
S
M
T
W
T
F
S
01

$210

02

$225

03

$225

04

$220

05

$220

06

$225

07

$230

08

$235

09

$240

10

$245

11

$235

12

$240

13

$245

14

$245

15

$255

16

$250

17

$250

18

$250

19

$255

20

$255

21

$250

22

$260

23

$255

24

$255

25

$245

26

$250

27

$250

28

$255

29

$280

30

$275
July 2023
S
M
T
W
T
F
S
01

$275

02

$265

03

$270

04

$270

05

$275

06

$280

07

$280

08

$265

09

$255

10

$260

11

$255

12

$260

13

$260

14

$260

15

$255

16

$245

17

$250

18

$250

19

$255

20

$260

21

$260

22

$260

23

$245

24

$250

25

$255

26

$255

27

$260

28

$260

29

$255

30

$235

31

$235
August 2023
S
M
T
W
T
F
S
01

$240

02

$235

03

$245

04

$245

05

$235

06

$215

07

$210

08

$210

09

$210

10

$215

11

$215

12

$205

13

$180

14

$170

15

$165

16

$165

17

$175

18

$175

19

$170

20

$140

21

$130

22

$130

23

$125

24

$140

25

$140

26

$140

27

$125

28

$125

29

$125

30

$125

31

$125
September 2023
S
M
T
W
T
F
S
01

$225

02

$225

03

$200

04

$195

05

$125

06

$125

07

$125

08

$130

09

$130

10

$125

11

$125

12

$125

13

$125

14

$125

15

$130

16

$130

17

$125

18

$125

19

$125

20

$125

21

$125

22

$125

23

$125

24

$125

25

$125

26

$125

27

$125

28

$125

29

$125

30

$125
October 2023
S
M
T
W
T
F
S
01

$125

02

$125

03

$125

04

$125

05

$125

06

$230

07

$225

08

$210

09

$205

10

$125

11

$125

12

$125

13

$125

14

$125

15

$125

16

$125

17

$125

18

$125

19

$125

20

$125

21

$125

22

$125

23

$125

24

$125

25

$125

26

$125

27

$125

28

$125

29

$125

30

$125

31

$125