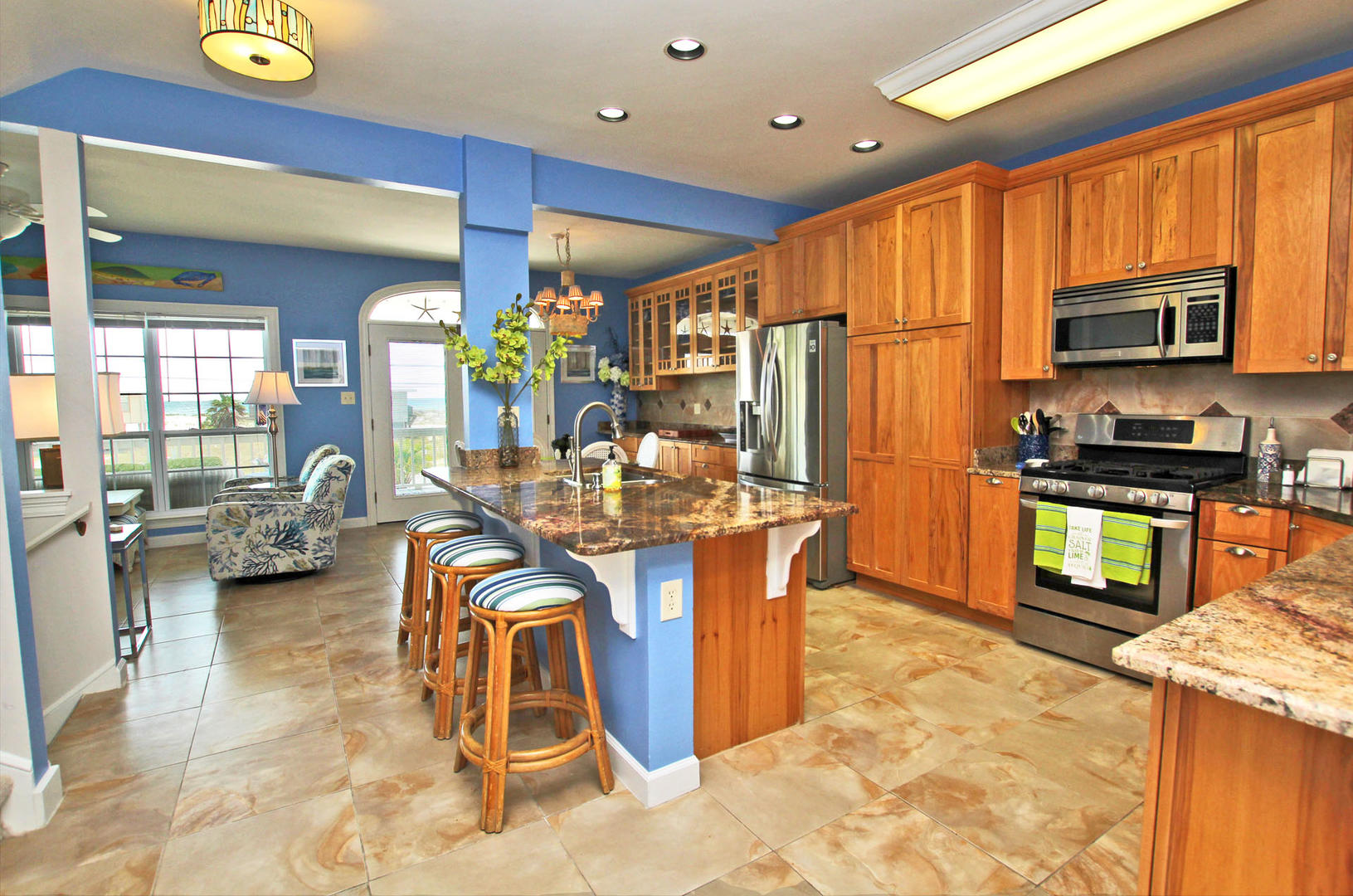 This privately owned east-side duplex boasts spacious interiors and views of the beach and Gulf of Mexico from the south facing deck. This beautiful 3-bedroom 2-bathroom house features colorful beach decor and sleeps up to 8 comfortably.

The living room is roomy with cozy furniture, a large wall-mounted flat screen television, beautiful partial views of the gulf. The interior dining area seats 4 people with additional seating available at the kitchen breakfast counter. The kitchen is fully equipped with custom wood cabinetry and stainless steel appliances. The master bedroom is located on the second floor of the home and offers a King size bed plus a twin daybed and sitting area facing a large wall-mounted flat screen television. The master bath is spacious with a double sink vanity, large Jacuzzi tub with separate custom tile walk-in shower and a bidet. Two guest bedrooms are located on the 1st floor. The first offers a Queen bed, and wall-mounted flat screen television. The 2nd guest bedroom features two twin beds. A bonus room with a twin daybed is located on the 2nd floor of the home.

My Friend's Place East provides all the comforts of home. You will enjoy the convenience of free Wi-Fi, a stacked washer and dryer set, covered parking, and relaxing gulf views of the beach from the front deck. Soak up those southern views, the sun, and enjoy your morning coffee or dinner al fresco on the spacious covered porch with comfortable outdoor furniture, ceiling fan, and an additional outdoor dining table that seats up to 6.

This home is located on West Beach Boulevard in Gulf Shores and is convenient to nearby shops, restaurants and attractions. Both sides of the duplex can be rented together and the property is also available for weddings.

Monthly reservations are available from November 1st to March 1st. This is a non-smoking home.

Bedding:
1 King and 1 Twin Daybed
1 Queen
2 Twins
1 Twin Daybed


1340 West Beach Blvd., Gulf Shores, AL

Unit Location : East Corner
Area : Gulf Shores
Sleep Cap : 8
Bedrooms : 3.00
Internet Type : Free Unit WiFi
Square Ft. : 2039
Master Bedroom : King/Twin Daybed
Building Orientation : Across the Street
Guest Bedroom 1 : Queen
Guest Bedroom 2 : 2 Twins
Guest Bedroom 3 : Twin
ilink : ilink Booking
Balcony View : Indirect Gulf View
Number Bathrooms : 2.0
Complex : House
TV - Unit : 3
Number of Beds : 6
BBQ Grills : Yes
Rental Type : House
Sleeps : 8
Age Requirement : Spring Break/Music Fest- 25
Long Term : No
Pet Policy : No Pets
Pet Restriction : No Pets
Parking - Guest Purchase :
Thank you for submitting your review. It will be processed shortly!
September 14, 2020 - Website
Quick get away
by Robert D
Overall great experience, will come again! - Reviewed on VRBO
October 2022
S
M
T
W
T
F
S
01
02
03
04

$170

05

$170

06

$185

07
08
09
10
11
12
13
14
15
16
17
18
19
20

$170

21

$170

22

$170

23

$170

24

$170

25

$170

26

$170

27

$170

28

$170

29

$170

30

$170

31

$170
November 2022
S
M
T
W
T
F
S
01

$170

02

$170

03

$170

04

$170

05

$170

06

$170

07

$170

08

$170

09

$170

10

$170

11

$170

12

$170

13

$170

14

$170

15

$170

16

$170

17

$170

18

$170

19

$170

20

$170

21

$170

22

$175

23

$170

24

$180

25

$190

26

$185

27

$170

28

$170

29

$170

30

$170
December 2022
S
M
T
W
T
F
S
01

$170

02

$170

03

$170

04

$170

05

$170

06

$170

07

$170

08

$170

09

$170

10

$170

11

$170

12

$170

13

$170

14

$170

15

$170

16

$170

17
18
19
20
21
22
23

$175

24

$175

25

$180

26

$180

27

$180

28

$200

29

$200

30

$210

31

$215
January 2023
S
M
T
W
T
F
S
01

$220

02

$220

03

$225

04

$170

05

$170

06

$170

07

$170

08

$170

09

$170

10

$170

11

$170

12

$170

13

$170

14

$170

15

$170

16

$170

17

$170

18

$170

19

$170

20

$170

21

$170

22

$170

23

$170

24

$170

25

$170

26

$170

27

$170

28

$170

29

$170

30

$170

31

$170
February 2023
S
M
T
W
T
F
S
01

$170

02
03
04
05
06
07
08
09
10
11
12
13
14
15
16
17
18
19
20
21
22
23
24
25
26
27
28
March 2023

| S | M | T | W | T | F | S |
| --- | --- | --- | --- | --- | --- | --- |
| | | | 01 | 02 | 03 | 04 |
| 05 | 06 | 07 | 08 | 09 | 10 | 11 |
| 12 | 13 | 14 | 15 | 16 | 17 | 18 |
| 19 | 20 | 21 | 22 | 23 | 24 | 25 |
| 26 | 27 | 28 | 29 | 30 | 31 | |
April 2023
S
M
T
W
T
F
S
01

$345

02

$340

03

$325

04

$340

05

$320

06

$365

07

$365

08

$375

09

$345

10

$320

11

$335

12

$315

13

$330

14

$350

15

$370

16

$325

17

$200

18

$210

19

$200

20

$210

21

$245

22

$265

23

$205

24

$205

25

$210

26

$200

27

$210

28

$245

29

$260

30

$210
May 2023
S
M
T
W
T
F
S
01

$210

02

$215

03

$220

04

$230

05

$265

06

$275

07

$235

08

$235

09

$235

10

$240

11

$250

12

$285

13

$300

14

$265

15

$260

16

$265

17

$275

18

$585

19

$620

20

$645

21

$600

22

$310

23

$315

24

$325

25

$340

26

$495

27

$530

28

$475

29

$495

30

$375

31

$385
June 2023
S
M
T
W
T
F
S
01

$395

02

$410

03

$440

04

$390

05

$415

06

$425

07

$430

08

$440

09

$450

10

$465

11

$430

12

$455

13

$460

14

$460

15

$470

16

$470

17

$475

18

$480

19

$500

20

$505

21

$470

22

$470

23

$470

24

$465

25

$455

26

$460

27

$460

28

$460

29

$480

30

$480
July 2023
S
M
T
W
T
F
S
01

$480

02

$480

03

$485

04

$485

05

$490

06

$490

07

$495

08

$485

09

$490

10

$490

11

$500

12

$505

13

$505

14

$510

15

$510

16

$515

17

$515

18

$520

19

$515

20

$515

21

$510

22

$510

23

$510

24

$515

25

$510

26

$515

27

$515

28

$505

29

$505

30
31
August 2023
S
M
T
W
T
F
S
01
02
03
04
05

$480

06

$460

07

$465

08

$450

09

$450

10

$445

11

$460

12

$430

13

$400

14

$390

15

$375

16

$370

17

$385

18

$400

19

$370

20

$330

21

$305

22

$300

23

$300

24

$320

25

$340

26

$320

27

$280

28

$255

29

$250

30

$255

31

$285
September 2023
S
M
T
W
T
F
S
01

$435

02

$430

03

$390

04

$365

05

$235

06

$245

07

$280

08

$305

09

$305

10

$260

11

$235

12

$225

13

$235

14

$260

15

$285

16

$285

17

$240

18

$215

19

$210

20

$215

21

$240

22

$260

23

$265

24

$225

25

$210

26

$215

27

$225

28

$245

29

$260

30

$270
October 2023
S
M
T
W
T
F
S
01

$225

02

$220

03

$220

04

$225

05

$255

06

$455

07

$450

08

$405

09

$400

10

$210

11

$220

12

$245

13

$255

14

$240

15

$195

16

$190

17

$190

18

$190

19

$205

20

$215

21

$195

22

$190

23

$190

24

$190

25

$190

26

$190

27

$190

28

$190

29

$190

30

$190

31

$190