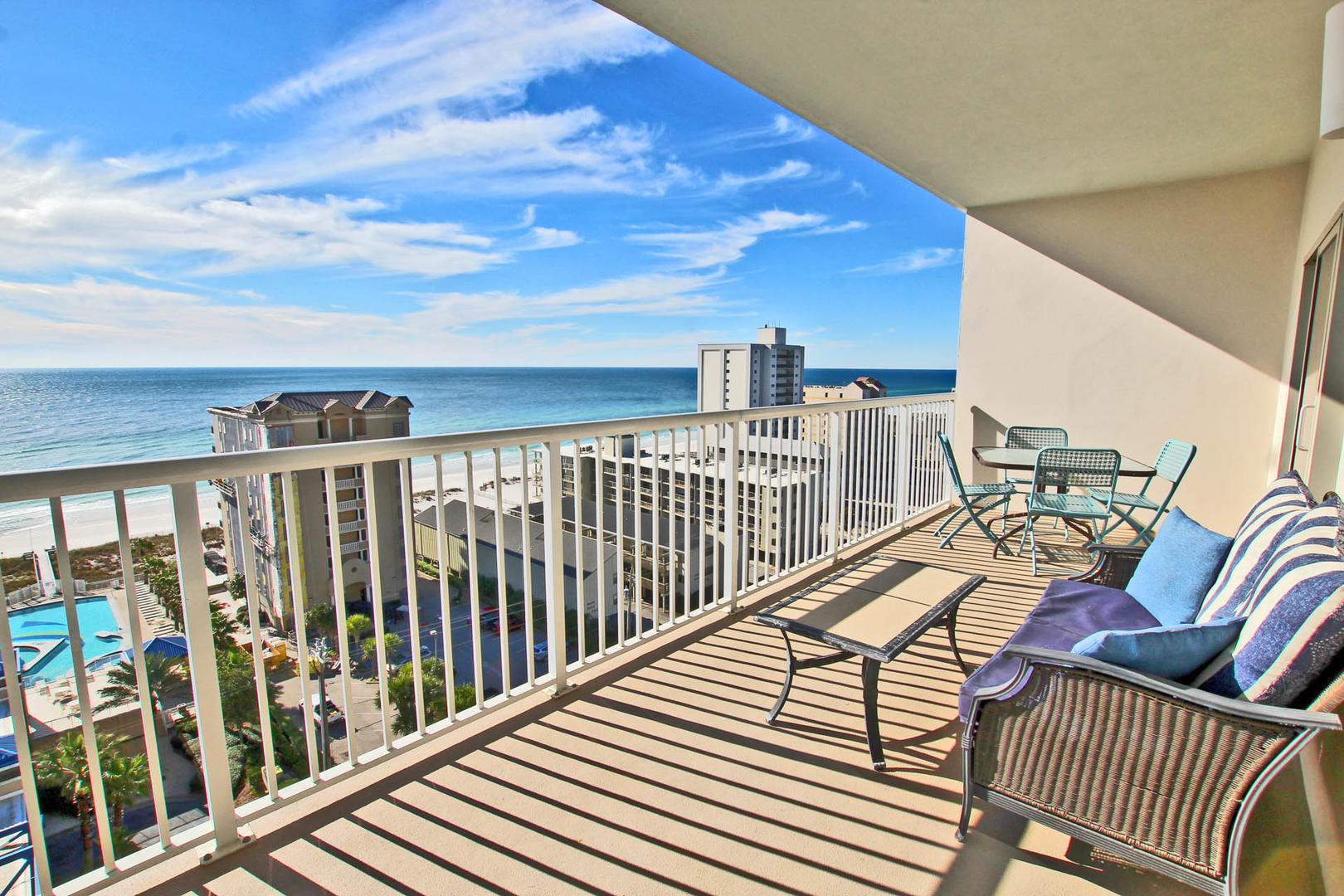 Leave the worries of the world behind you and walk into paradise. Crystal Tower 1105 offers pure relaxation and memories that last a lifetime. When you open the door, you will be greeted with the soft glow of the natural sunlight shining through the gulf-facing floor to ceiling, sliding doors. When you step out onto the private balcony, you can take in all the sights of Gulf Shores. The cozy living room offers plenty of room for the entire family to enjoy each others company. If you need extra sleeping space, the couch has a queen size sofa sleeper, which allows this vacation rental to sleep up to 6 people.

You cannot visit the Alabama Gulf Coast without trying your hand at preparing a home-cooked seafood meal and the kitchen has everything you need to make that happen. You can choose to dine at the dining room table or out on the balcony enjoying the Alabama breeze.

After a day of fun in the sun, allow the comfort of the primary bedroom. There is a king size bed situated perfectly to gaze out the doors leading to the balcony. The primary bathroom has a spacious double vanity and a walk-in shower. The second bedroom has 2 twin beds and a entrance to the second full bathroom which has a bathtub and shower combination.

Crystal Tower Condominiums have all the amenities one could ever desire. A walk over pedestrian bridge that makes beach access safe and simple, indoor/outdoor pools, a lazy river, up to 2 parking passes per condo, a BBQ area, Free Wi-Fi, and washing machine and dryers in each condo.

This is a non-smoking condo. No pets are permitted, and you must be 25 years of age or older to reserve this rental. Monthly rentals available November-March 1st.

Bedding:
Primary- King
Bedroom 2- 2 Twin beds
Living Room- Sofa Sleeper Queen

1010 West Beach Blvd. Gulf Shores, Alabama 36542

Unit Location : Close to Elevator
Area : Gulf Shores
Sleep Cap : 6
Bedrooms : 2.00
Internet Type : Free Public WiFi
Square Ft. : 1042
Master Bedroom : King
Building Orientation : Across the Street
Guest Bedroom 1 : 2 Twins
ilink : ilink Booking
Balcony View : Across the Street - Gulf View
Number Bathrooms : 2.0
Complex : Crystal Tower
TV - Unit : 3
Number of Beds : 3
Pool - Outdoor : Yes
Pool - Indoor : Yes
Pool - Indoor Heated : Yes
Jacuzzi : Yes
Fitness Room : Yes
Pool - Outdoor Lazy River : Yes
Sauna : Yes
BBQ Grills : Yes
Elevator : Yes
Parking Limit : 2 Vehicles
Rental Type : Condo
Sleeps : 6
Age Requirement : 25
Long Term : No
Pet Policy : No Pets
Pet Restriction : No Pets
Parking - Guest Purchase :
Thank you for submitting your review. It will be processed shortly!
Great place + close to the beach!
by Shelby
The room was beautiful! We had a great view and very short walk to the beach and pool area. I would definitely recommend!
September 2022
S
M
T
W
T
F
S
01
02
03
04
05
06
07
08
09
10
11
12
13
14
15
16
17
18
19
20
21
22
23
24
25

$130

26
27
28
29
30
October 2022

| S | M | T | W | T | F | S |
| --- | --- | --- | --- | --- | --- | --- |
| | | | | | | 01 |
| 02 | 03 | 04 | 05 | 06 | 07 | 08 |
| 09 | 10 | 11 | 12 | 13 | 14 | 15 |
| 16 | 17 | 18 | 19 | 20 | 21 | 22 |
| 23 | 24 | 25 | 26 | 27 | 28 | 29 |
| 30 | 31 | | | | | |
November 2022

| S | M | T | W | T | F | S |
| --- | --- | --- | --- | --- | --- | --- |
| | | 01 | 02 | 03 | 04 | 05 |
| 06 | 07 | 08 | 09 | 10 | 11 | 12 |
| 13 | 14 | 15 | 16 | 17 | 18 | 19 |
| 20 | 21 | 22 | 23 | 24 | 25 | 26 |
| 27 | 28 | 29 | 30 | | | |
December 2022

| S | M | T | W | T | F | S |
| --- | --- | --- | --- | --- | --- | --- |
| | | | | 01 | 02 | 03 |
| 04 | 05 | 06 | 07 | 08 | 09 | 10 |
| 11 | 12 | 13 | 14 | 15 | 16 | 17 |
| 18 | 19 | 20 | 21 | 22 | 23 | 24 |
| 25 | 26 | 27 | 28 | 29 | 30 | 31 |
January 2023

| S | M | T | W | T | F | S |
| --- | --- | --- | --- | --- | --- | --- |
| 01 | 02 | 03 | 04 | 05 | 06 | 07 |
| 08 | 09 | 10 | 11 | 12 | 13 | 14 |
| 15 | 16 | 17 | 18 | 19 | 20 | 21 |
| 22 | 23 | 24 | 25 | 26 | 27 | 28 |
| 29 | 30 | 31 | | | | |
February 2023

| S | M | T | W | T | F | S |
| --- | --- | --- | --- | --- | --- | --- |
| | | | 01 | 02 | 03 | 04 |
| 05 | 06 | 07 | 08 | 09 | 10 | 11 |
| 12 | 13 | 14 | 15 | 16 | 17 | 18 |
| 19 | 20 | 21 | 22 | 23 | 24 | 25 |
| 26 | 27 | 28 | | | | |
March 2023

| S | M | T | W | T | F | S |
| --- | --- | --- | --- | --- | --- | --- |
| | | | 01 | 02 | 03 | 04 |
| 05 | 06 | 07 | 08 | 09 | 10 | 11 |
| 12 | 13 | 14 | 15 | 16 | 17 | 18 |
| 19 | 20 | 21 | 22 | 23 | 24 | 25 |
| 26 | 27 | 28 | 29 | 30 | 31 | |
April 2023

| S | M | T | W | T | F | S |
| --- | --- | --- | --- | --- | --- | --- |
| | | | | | | 01 |
| 02 | 03 | 04 | 05 | 06 | 07 | 08 |
| 09 | 10 | 11 | 12 | 13 | 14 | 15 |
| 16 | 17 | 18 | 19 | 20 | 21 | 22 |
| 23 | 24 | 25 | 26 | 27 | 28 | 29 |
| 30 | | | | | | |
May 2023

| S | M | T | W | T | F | S |
| --- | --- | --- | --- | --- | --- | --- |
| | 01 | 02 | 03 | 04 | 05 | 06 |
| 07 | 08 | 09 | 10 | 11 | 12 | 13 |
| 14 | 15 | 16 | 17 | 18 | 19 | 20 |
| 21 | 22 | 23 | 24 | 25 | 26 | 27 |
| 28 | 29 | 30 | 31 | | | |
June 2023

| S | M | T | W | T | F | S |
| --- | --- | --- | --- | --- | --- | --- |
| | | | | 01 | 02 | 03 |
| 04 | 05 | 06 | 07 | 08 | 09 | 10 |
| 11 | 12 | 13 | 14 | 15 | 16 | 17 |
| 18 | 19 | 20 | 21 | 22 | 23 | 24 |
| 25 | 26 | 27 | 28 | 29 | 30 | |
July 2023

| S | M | T | W | T | F | S |
| --- | --- | --- | --- | --- | --- | --- |
| | | | | | | 01 |
| 02 | 03 | 04 | 05 | 06 | 07 | 08 |
| 09 | 10 | 11 | 12 | 13 | 14 | 15 |
| 16 | 17 | 18 | 19 | 20 | 21 | 22 |
| 23 | 24 | 25 | 26 | 27 | 28 | 29 |
| 30 | 31 | | | | | |
August 2023

| S | M | T | W | T | F | S |
| --- | --- | --- | --- | --- | --- | --- |
| | | 01 | 02 | 03 | 04 | 05 |
| 06 | 07 | 08 | 09 | 10 | 11 | 12 |
| 13 | 14 | 15 | 16 | 17 | 18 | 19 |
| 20 | 21 | 22 | 23 | 24 | 25 | 26 |
| 27 | 28 | 29 | 30 | 31 | | |
September 2023

| S | M | T | W | T | F | S |
| --- | --- | --- | --- | --- | --- | --- |
| | | | | | 01 | 02 |
| 03 | 04 | 05 | 06 | 07 | 08 | 09 |
| 10 | 11 | 12 | 13 | 14 | 15 | 16 |
| 17 | 18 | 19 | 20 | 21 | 22 | 23 |
| 24 | 25 | 26 | 27 | 28 | 29 | 30 |