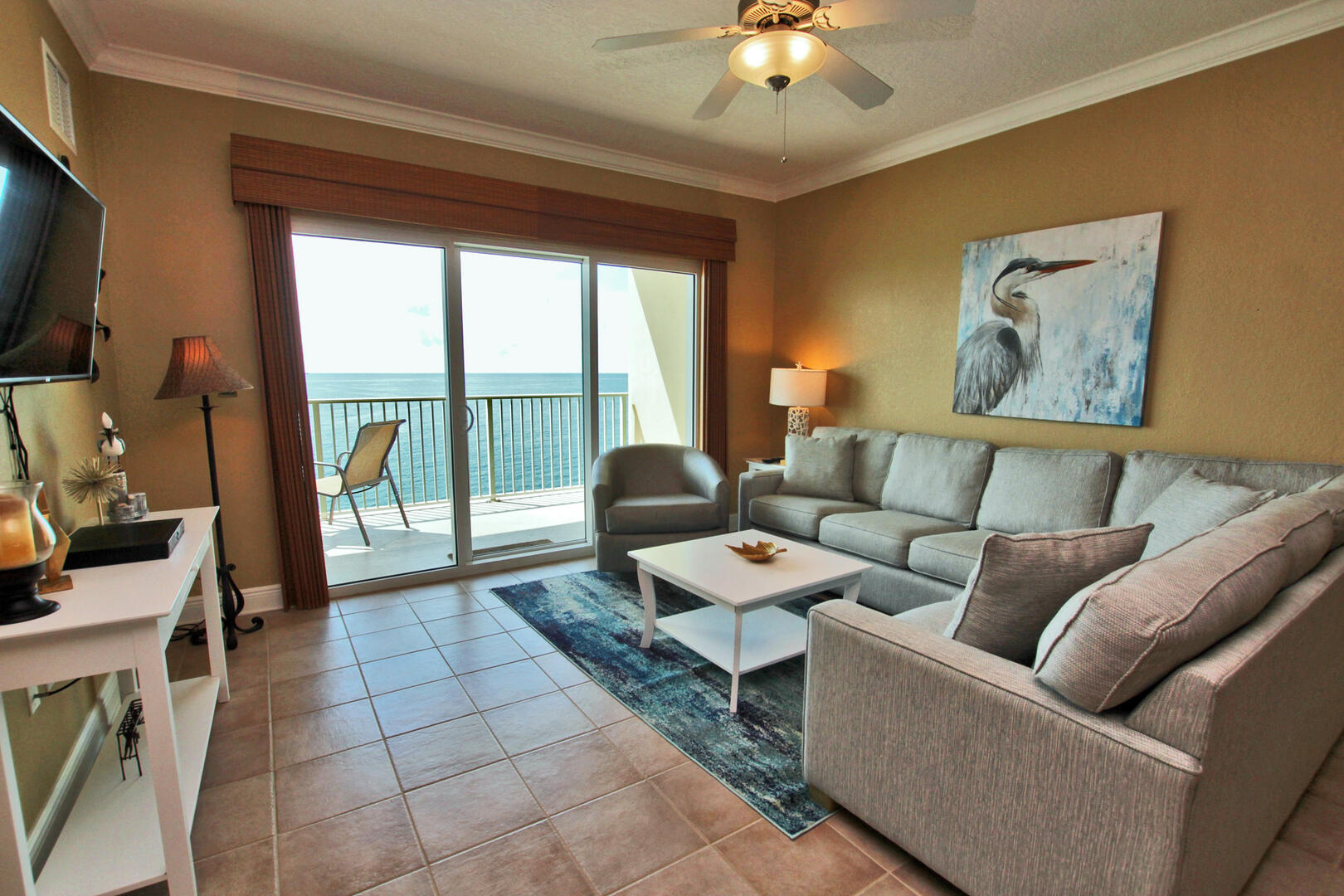 Due to roof replacement, parking is limited to 1 parking pass per condo, starting August of 2022. The outdoor pool will not be open during this time.

If you are looking for a beach front escape Crystal Shores West 703 is the place to be. This 2-bedroom and 2-bathroom condo, newly updated with flooring and located along West Beach Blvd in Gulf Shores can sleep up to 6 people. When you open the door, your will be greeted with pure relaxation. The living room has a brand new sectional which offers plenty of seating for the whole family to gather around and make precious memories. If additional sleeping space is needed the couch pulls out to a queen size sofa sleeper. The floor to ceiling windows with sliding glass doors lead to the private balcony overlooking the sugar white sands of the Alabama Gulf Coast.

If you are up to preparing a traditional, deep south feast, the kitchen is fully equipped with everything you need to prepare and serve your delicious culinary creation. The dining table can seat 6 people, and there is additional seating at the breakfast counter. If you would like to spend the mornings with the soft breeze and a cup of coffee, you will find a table and chairs where you can start your day and listen to the waves wash upon the shore.

After a day of exploring and getting your toes in the sand, retreat to the comfort of the cozy bedrooms. The master bedroom has a new mattress for its king bed and private access to the gulf front balcony. In the master bathroom you will find a single vanity sink with plenty of counter space and a bathtub and shower combination. In the second bedroom there is also a king bed with a new mattress, and the bathroom is connecting to the hall. It has a single vanity sink and a bathtub and shower combination. There are flat screen televisions in each bedroom and the living room. There is Wifi so you do not miss a thing back in the real world and can show everyone back at home how much fun you are having on your vacation.

Crystal Shores West offers everything you want in a beach side vacation resort. This 108 unit building crowns a prime location on the beautiful West Beach of Gulf Shores. A zero entry outdoor pool, plus many other amenities provide all the luxuries you deserve. A 2 car parking limit is enforced, covered parking available. There is a full size washer and dryer.

You must be 25 years of age or older to rent this condo. No pets are permitted, and this is a Non-smoking property.

Bedding:
Master- King
Bedroom 2- King
Living Room- Sofa Sleeper Queen

931 West Beach Blvd. Gulf Shores, AL

Unit Location : Far from Elevator
Area : Gulf Shores
Sleep Cap : 6
Bedrooms : 2.00
Internet Type : Free Public WiFi
Square Ft. : 1294
Master Bedroom : King
Building Orientation : Gulf Side
Guest Bedroom 1 : King
ilink : ilink Booking
Balcony View : Gulf Front
Number Bathrooms : 2.0
Complex : Crystal Shores West
TV - Unit : 3
Number of Beds : 3
Pool - Outdoor : Yes
Pool - Indoor : Yes
Pool - Indoor Heated : Yes
Jacuzzi : Yes
Fitness Room : Yes
Sauna : Yes
BBQ Grills : Yes
Elevator : Yes
Parking Limit : 2 Vehicles
Rental Type : Condo
Sleeps : 6
Age Requirement : 25
Long Term : No
Pet Policy : No Pets
Pet Restriction : No Pets
Parking - Guest Purchase :
Thank you for submitting your review. It will be processed shortly!
We are sorry, there are no reviews for this unit. Be the first to leave a review!
August 2022
S
M
T
W
T
F
S
01
02
03
04
05
06
07
08
09
10
11
12
13
14

$160

15
16
17
18
19

$160

20

$160

21

$160

22

$160

23

$160

24

$160

25

$160

26

$160

27

$160

28

$160

29

$160

30

$160

31

$160
September 2022
S
M
T
W
T
F
S
01

$185

02

$290

03

$320

04

$245

05

$195

06

$160

07

$160

08

$160

09

$190

10

$200

11

$175

12
13
14
15
16
17
18

$175

19

$170

20

$160

21

$160

22

$175

23

$185

24

$190

25

$175

26

$175

27

$170

28

$170

29

$185

30

$195
October 2022
S
M
T
W
T
F
S
01

$195

02

$180

03
04
05
06
07

$265

08

$260

09

$240

10

$230

11

$230

12

$205

13

$205

14

$185

15

$175

16

$160

17

$160

18

$160

19

$160

20

$160

21

$160

22
23
24

$160

25

$160

26

$160

27

$160

28

$160

29

$160

30

$160

31

$160
November 2022
S
M
T
W
T
F
S
01

$160

02

$160

03

$160

04

$160

05

$160

06

$160

07

$160

08

$160

09

$160

10

$160

11

$160

12

$160

13

$160

14

$160

15

$160

16

$160

17

$160

18

$160

19

$160

20

$160

21

$165

22

$165

23

$170

24

$180

25

$185

26

$180

27

$160

28

$160

29

$160

30

$160
December 2022
S
M
T
W
T
F
S
01

$160

02

$160

03

$160

04

$160

05

$160

06

$160

07

$160

08

$160

09

$160

10

$160

11

$160

12

$160

13

$160

14

$160

15

$160

16

$160

17

$160

18

$160

19

$160

20

$175

21

$175

22

$170

23

$195

24

$195

25

$195

26

$195

27

$195

28

$215

29

$215

30

$220

31

$220
January 2023
S
M
T
W
T
F
S
01

$225

02
03
04
05
06
07
08
09
10
11
12
13
14
15
16
17
18
19
20
21
22
23
24
25
26
27
28
29
30
31
February 2023

| S | M | T | W | T | F | S |
| --- | --- | --- | --- | --- | --- | --- |
| | | | 01 | 02 | 03 | 04 |
| 05 | 06 | 07 | 08 | 09 | 10 | 11 |
| 12 | 13 | 14 | 15 | 16 | 17 | 18 |
| 19 | 20 | 21 | 22 | 23 | 24 | 25 |
| 26 | 27 | 28 | | | | |
March 2023
S
M
T
W
T
F
S
01

$210

02

$205

03

$225

04

$235

05

$215

06

$215

07

$220

08

$210

09

$210

10

$285

11

$295

12

$280

13

$280

14

$290

15

$270

16

$270

17

$285

18

$280

19

$270

20

$275

21

$280

22

$260

23

$270

24

$275

25

$290

26

$300

27

$290

28

$310

29

$285

30

$295

31

$305
April 2023
S
M
T
W
T
F
S
01

$320

02

$320

03

$300

04

$315

05

$285

06

$325

07

$330

08

$325

09

$310

10

$280

11

$300

12

$280

13

$285

14

$305

15

$300

16

$280

17

$180

18

$185

19

$180

20

$180

21

$215

22

$215

23

$180

24

$180

25

$180

26

$180

27

$185

28

$220

29

$220

30

$180
May 2023
S
M
T
W
T
F
S
01

$180

02

$180

03

$185

04

$200

05

$230

06

$230

07

$195

08

$195

09

$195

10

$200

11

$215

12

$250

13

$250

14

$225

15

$230

16

$230

17

$235

18

$515

19

$550

20

$550

21

$530

22

$280

23

$275

24

$280

25

$295

26

$440

27

$440

28

$425

29

$435

30

$325

31

$325
June 2023
S
M
T
W
T
F
S
01

$345

02

$370

03

$365

04

$355

05

$370

06

$370

07

$375

08

$385

09

$395

10

$415

11

$420

12

$430

13

$435

14

$440

15

$460

16

$400

17

$400

18

$415

19

$425

20

$430

21

$405

22

$410

23

$410

24

$410

25

$400

26

$410

27

$410

28

$410

29

$440

30

$435
July 2023
S
M
T
W
T
F
S
01

$435

02

$435

03

$445

04

$445

05

$440

06

$450

07

$450

08

$425

09

$420

10

$430

11

$425

12

$430

13

$435

14

$435

15

$430

16

$420

17

$435

18

$430

19

$435

20

$440

21

$450

22

$440

23

$425

24

$440

25

$435

26

$440

27

$445

28

$445

29

$440

30

$420

31

$430
August 2023
S
M
T
W
T
F
S
01

$420

02

$420

03

$420

04

$420

05

$410

06

$380

07

$380

08

$370

09

$360

10

$370

11

$365

12

$350

13

$315

14

$305

15

$295

16

$300

17

$310

18

$320

19

$295

20

$260

21

$245

22

$235

23

$235

24

$250

25

$265

26

$255

27

$220

28

$205

29

$200

30

$200

31

$220