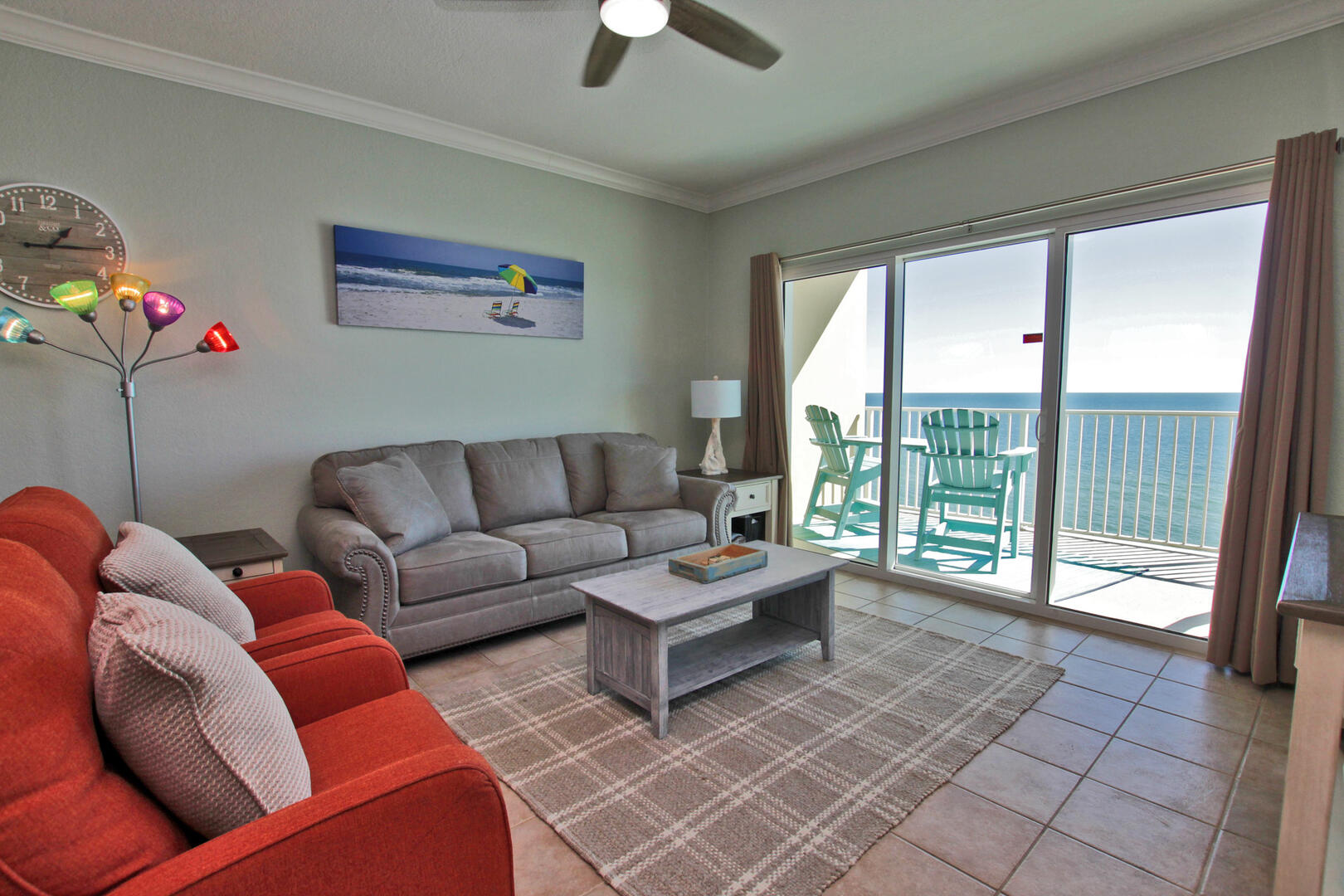 When it is time for a beach break, Crystal Shores West 302 is the place for you. This 3rd floor, 2 bedroom, 2 bathroom vacation rental boasts views from the sparkling Gulf of Mexico and is located on west beach in Gulf Shores. From the moment you open the door you will know you have found paradise. The cool, coastal tones of the living room invite you right into comfort. Sit back and relax while enjoying all the comforts of home. There is a large flat screen television where the whole family could gather around and enjoy your favorite shows, or you could choose to slide open the floor to ceiling balcony doors and listen to the waves roll in. The private balcony which faces the sugar white sand can provide pictures that you see in magazines. If you need more sleeping space, the couch folds out to a queen size bed. Crystal Shores West 302 can sleep up to 6 people comfortably.

If you enjoy cooking this kitchen will not disappoint. There are stainless steel appliances and everything you will need to create culinary masterpieces. You can serve the meal at the dining table which seats 4 people, and 3 additional people can sit at the counter. Everyone knows mornings are best spent with a beach view, so grab a cup of coffee and sip your worries away on the balcony.

After a busy day exploring what the Alabama Coast has to offer find peace and tranquility when you retreat to the master bedroom. The comfort of the king size bed will welcome the sweetest dreams and prepare you for the next fun filled day at the beach. There is a sliding glass door which leads to the gulf front balcony that you can choose to crack open to listen to the soothing beach sounds. There is a wall mounted television and plenty of space to unpack and get settled into your home away from home. The master bathroom has a large vanity and a bathtub, shower combination. The second bedroom has a comfortable queen size bed and a wall mounted television. There is a second full size bathroom which also has a bathtub, shower combination.

Crystal Shores West offers everything you want in a beach-side vacation resort. This 108 unit building crowns a prime location on the beautiful West Beach of Gulf Shores. There is a zero entry outdoor pool, an indoor pool, fitness center and a game room in the lobby available for guest use as well as Wi-Fi, and BBQ grills on site. Shopping and dining in some of the Gulf Shores most popular places is all within walking distance. The location cannot be beat.
This is a non-smoking property and pets are not permitted. You must be 25 years of age or older to reserve this condo. Two parking passes are included. Monthly rentals are available from November- March 1st.

Bedding:
Master- King
Bedroom 2 – Queen
Living Room- Sofa Sleeper Queen

931 West Beach Blvd. Gulf Shores

Unit Location : Center
Area : Gulf Shores
Sleep Cap : 6
Bedrooms : 2.00
Internet Type : Free Public WiFi
Square Ft. : 1294
Master Bedroom : King
Building Orientation : Gulf Side
Guest Bedroom 1 : Queen
ilink : ilink Booking
Balcony View : Gulf Front
Number Bathrooms : 2.0
Complex : Crystal Shores West
TV - Unit : 3
Number of Beds : 2
Pool - Outdoor : Yes
Pool - Indoor : Yes
Pool - Indoor Heated : Yes
Jacuzzi : Yes
Fitness Room : Yes
Sauna : Yes
BBQ Grills : Yes
Elevator : Yes
Parking Limit : 2 Vehicles
Rental Type : Condo
Sleeps : 6
Age Requirement : 25
Long Term : No
Pet Policy : No Pets
Pet Restriction : No Pets
Parking - Guest Purchase :
Thank you for submitting your review. It will be processed shortly!
September 27, 2022 - Manual Entry
We have stayed in this condo Crystal Shores West multiple times, and this is our second stay in unit 302. Right on the beach with stellar views. Furniture and appliances are all new since our 2018 visit. If you're picky about having a sharp knife for food prep, then bring your own. It was my turn for the pull-out sofa, and it was surprisingly comfortable. Dish network for the tv, and the added ability to login and watch YouTube tv and/or Netflix. We had a wonderful week. - Reviewed on Google
Beautiful Condo on the BEACH!
by Kathleen
Beautifully updated and equipped for a perfect beach stay! Large balcony overlooking the Gulf, clean, comfortable, full kitchen & laundry, new furniture, 2 comfy beds. Near grocery, shopping, restaurants. Couldn't ask for more! Recommend renting lounges with umbrella for a full day of relaxing. Great for kids too, small game room with pool tables and foosball off indoor/outdoor pool/jacuzzi area. We will be back 🙂
Perfect place to stay!
by Kristen K.
The condo is right on the beach with a beautiful view off the balcony. You can see both sunrises and sunsets from the condo. The location is perfect with direct beach access to one of the best beaches out of anywhere I've been. Beautiful, soft white sand. The water is warm. Everything in the place has been recently renovated, with updated furnitures, tvs, etc. Very homey and I would highly recommend!
October 2022
S
M
T
W
T
F
S
01
02
03

$160

04
05
06
07
08
09
10

$160

11

$160

12

$160

13

$160

14
15
16
17
18
19

$160

20

$160

21

$160

22

$160

23

$160

24

$160

25

$160

26
27
28
29
30

$160

31

$160
November 2022
S
M
T
W
T
F
S
01

$160

02

$160

03

$160

04
05
06

$160

07

$160

08

$160

09

$160

10

$160

11

$160

12

$160

13

$160

14

$160

15

$160

16

$160

17

$160

18

$160

19

$160

20

$160

21

$165

22

$165

23

$160

24

$170

25

$175

26

$170

27

$160

28

$160

29

$160

30

$160
December 2022
S
M
T
W
T
F
S
01

$160

02

$160

03

$160

04

$160

05

$160

06

$160

07

$160

08

$160

09

$160

10

$160

11

$160

12

$160

13

$160

14

$160

15

$160

16

$160

17

$160

18

$160

19

$160

20

$160

21

$160

22

$160

23

$170

24

$170

25

$170

26

$175

27

$180

28

$195

29

$195

30

$200

31

$200
January 2023
S
M
T
W
T
F
S
01

$205

02
03
04
05
06
07
08
09
10
11
12
13
14
15
16
17
18
19
20
21
22
23
24
25
26
27
28
29
30
31
February 2023

| S | M | T | W | T | F | S |
| --- | --- | --- | --- | --- | --- | --- |
| | | | 01 | 02 | 03 | 04 |
| 05 | 06 | 07 | 08 | 09 | 10 | 11 |
| 12 | 13 | 14 | 15 | 16 | 17 | 18 |
| 19 | 20 | 21 | 22 | 23 | 24 | 25 |
| 26 | 27 | 28 | | | | |
March 2023
S
M
T
W
T
F
S
01

$195

02

$220

03

$235

04

$250

05

$235

06

$235

07

$235

08

$230

09

$225

10

$305

11

$320

12

$305

13

$305

14

$310

15

$295

16

$295

17

$305

18

$295

19

$285

20

$290

21

$295

22

$280

23

$285

24

$295

25

$315

26

$320

27

$315

28

$330

29

$315

30

$320

31

$330
April 2023
S
M
T
W
T
F
S
01

$345

02

$345

03

$325

04

$340

05

$315

06

$355

07

$355

08

$350

09

$340

10

$310

11

$325

12

$305

13

$310

14

$330

15

$330

16

$310

17

$190

18

$200

19

$195

20

$200

21

$225

22

$230

23

$195

24

$190

25
26
27
28
29
30
May 2023
S
M
T
W
T
F
S
01
02
03
04
05
06
07
08

$215

09

$210

10

$220

11

$235

12

$270

13

$285

14

$245

15

$250

16

$250

17

$255

18

$550

19

$590

20

$615

21

$565

22

$295

23

$295

24

$300

25

$315

26

$470

27

$505

28

$455

29

$465

30

$345

31

$350
June 2023
S
M
T
W
T
F
S
01

$365

02

$395

03

$415

04

$380

05

$395

06

$400

07

$405

08

$415

09

$420

10

$435

11

$410

12

$425

13

$430

14

$425

15

$435

16

$435

17

$435

18

$450

19

$460

20

$465

21

$435

22

$440

23

$440

24

$440

25

$430

26

$440

27

$440

28

$440

29

$465

30

$465
July 2023
S
M
T
W
T
F
S
01

$470

02

$460

03

$470

04

$470

05

$475

06

$475

07

$475

08

$460

09

$455

10

$460

11

$460

12

$460

13

$465

14

$465

15

$470

16

$460

17

$470

18

$470

19

$475

20

$475

21

$470

22

$470

23

$460

24

$475

25

$475

26

$480

27

$480

28

$475

29

$470

30

$450

31

$460
August 2023
S
M
T
W
T
F
S
01

$455

02

$455

03

$460

04

$450

05

$445

06

$415

07

$415

08

$405

09

$405

10

$410

11

$410

12

$390

13

$355

14

$345

15

$330

16

$330

17

$340

18

$345

19

$330

20

$285

21

$270

22

$265

23

$260

24

$280

25

$290

26

$285

27

$240

28

$230

29

$225

30

$225

31

$245
September 2023
S
M
T
W
T
F
S
01

$375

02

$375

03

$340

04

$330

05

$215

06

$210

07

$235

08

$250

09

$255

10

$225

11

$215

12

$210

13

$210

14

$230

15

$245

16

$245

17

$220

18

$210

19

$205

20

$205

21

$220

22

$235

23

$240

24

$210

25

$205

26

$200

27

$205

28

$220

29

$240

30

$245
October 2023
S
M
T
W
T
F
S
01

$220

02

$205

03

$205

04

$215

05

$240

06

$430

07

$420

08

$390

09

$375

10

$200

11

$205

12

$220

13

$230

14

$220

15

$190

16

$180

17

$180

18

$180

19

$190

20

$195

21

$185

22

$180

23

$180

24

$180

25

$180

26

$180

27

$180

28

$180

29

$180

30

$180

31

$180