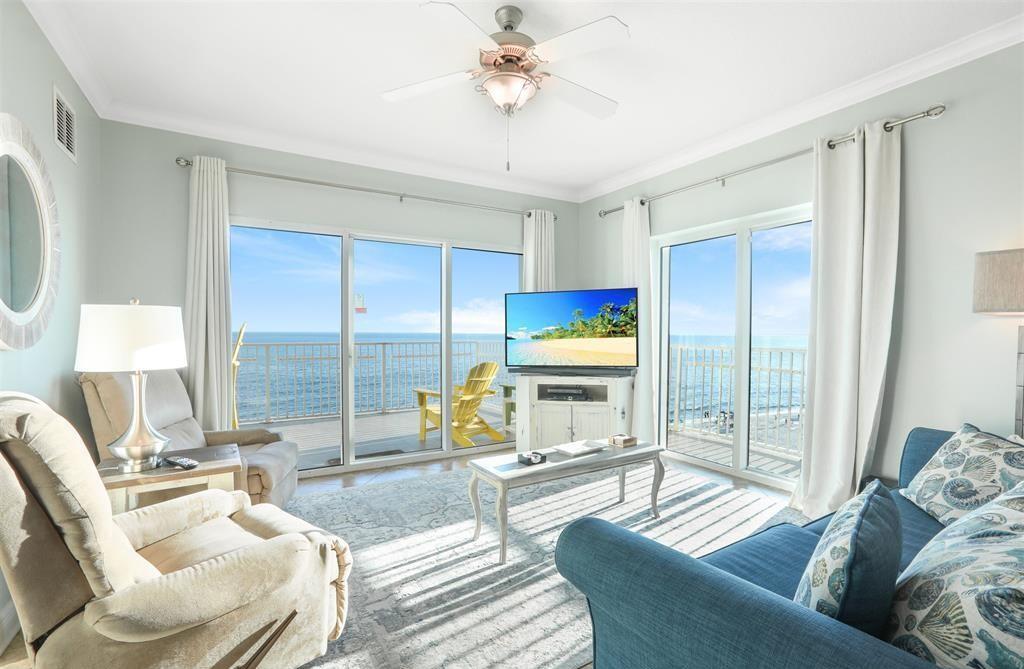 *New on Rental, Updates Coming Soon *

Due to roof replacement, parking is limited to 1 parking pass per condo, starting August of 2022. The outdoor pool will not be open during this time.

This condo has free WiFi access and features a laundry room with a full size washer and dryer for your convenience. This unit is a non-smoking condo.

Crystal Shores West amenities include a zero-entry outdoor pool, hot tub, indoor pool, and sauna. This complex also has a gulf front facing fitness center and a game room featuring pool tables and a Foosball table. Enjoy an easy walk to the water with a boardwalk leading out to the beach and outdoor washing station.

A 2 car parking limit is strictly enforced with covered parking available. Daily and weekly rates available. Monthly rentals are available December to March 1.

931 West Beach Boulevard, Gulf Shores, AL

Bedding:
Master - King
Bedroom 2- King
Bedroom 3- Queen
Living Room - Queen Sleeper Sofa
Unit Location : West Corner
Area : Gulf Shores
Sleep Cap : 10
Bedrooms : 3.00
Internet Type : Free Public WiFi
Square Ft. : 1810
Master Bedroom : King
Building Orientation : Gulf Side
Guest Bedroom 1 : Queen
Guest Bedroom 2 : 2 Full
ilink : ilink Booking
Balcony View : Gulf Front
Number Bathrooms : 3.0
Complex : Crystal Shores West
TV - Unit : 4
Number of Beds : 5
Pool - Outdoor : Yes
Pool - Indoor : Yes
Pool - Indoor Heated : Yes
Jacuzzi : Yes
Fitness Room : Yes
Sauna : Yes
BBQ Grills : Yes
Elevator : Yes
Parking Limit : 2 Vehicles
Rental Type : Condo
Sleeps : 10
Age Requirement : 25
Long Term : No
Pet Policy : No Pets
Pet Restriction : No Pets
Parking - Guest Purchase :
Thank you for submitting your review. It will be processed shortly!
We are sorry, there are no reviews for this unit. Be the first to leave a review!
September 2022
S
M
T
W
T
F
S
01
02
03
04
05
06
07
08
09
10
11
12
13
14
15
16
17
18
19
20
21
22
23
24
25

$190

26
27
28
29
30
October 2022

| S | M | T | W | T | F | S |
| --- | --- | --- | --- | --- | --- | --- |
| | | | | | | 01 |
| 02 | 03 | 04 | 05 | 06 | 07 | 08 |
| 09 | 10 | 11 | 12 | 13 | 14 | 15 |
| 16 | 17 | 18 | 19 | 20 | 21 | 22 |
| 23 | 24 | 25 | 26 | 27 | 28 | 29 |
| 30 | 31 | | | | | |
November 2022

| S | M | T | W | T | F | S |
| --- | --- | --- | --- | --- | --- | --- |
| | | 01 | 02 | 03 | 04 | 05 |
| 06 | 07 | 08 | 09 | 10 | 11 | 12 |
| 13 | 14 | 15 | 16 | 17 | 18 | 19 |
| 20 | 21 | 22 | 23 | 24 | 25 | 26 |
| 27 | 28 | 29 | 30 | | | |
December 2022
S
M
T
W
T
F
S
01
02
03
04
05

$190

06

$190

07

$190

08

$190

09

$190

10

$190

11

$190

12

$190

13

$190

14

$190

15

$190

16

$190

17

$190

18

$190

19

$190

20

$225

21

$220

22

$220

23

$260

24

$265

25

$265

26

$265

27

$270

28

$295

29

$295

30

$305

31

$310
January 2023
S
M
T
W
T
F
S
01

$320

02
03
04
05
06
07
08
09
10
11
12
13
14
15
16
17
18
19
20
21
22
23
24
25
26
27
28
29
30
31
February 2023

| S | M | T | W | T | F | S |
| --- | --- | --- | --- | --- | --- | --- |
| | | | 01 | 02 | 03 | 04 |
| 05 | 06 | 07 | 08 | 09 | 10 | 11 |
| 12 | 13 | 14 | 15 | 16 | 17 | 18 |
| 19 | 20 | 21 | 22 | 23 | 24 | 25 |
| 26 | 27 | 28 | | | | |
March 2023
S
M
T
W
T
F
S
01

$270

02

$270

03

$280

04

$285

05

$280

06

$280

07

$285

08

$275

09

$275

10

$370

11

$375

12

$375

13

$370

14

$380

15

$370

16

$360

17

$380

18

$360

19

$355

20

$360

21

$370

22

$355

23

$345

24

$365

25

$385

26

$385

27

$385

28

$405

29

$390

30

$390

31

$405
April 2023
S
M
T
W
T
F
S
01

$425

02

$420

03

$400

04

$425

05

$390

06

$445

07

$455

08

$465

09

$425

10

$390

11

$415

12

$385

13

$400

14

$430

15

$455

16

$400

17

$245

18

$260

19

$245

20

$260

21

$300

22

$325

23

$255

24

$250

25

$255

26

$250

27

$260

28

$305

29

$325

30

$255
May 2023
S
M
T
W
T
F
S
01

$260

02

$265

03

$270

04

$285

05

$325

06

$270

07

$290

08

$285

09

$285

10

$300

11

$305

12

$350

13

$370

14

$325

15

$320

16

$325

17

$340

18

$720

19

$765

20

$790

21

$740

22

$380

23

$385

24

$400

25

$420

26

$610

27

$655

28

$585

29

$605

30

$460

31

$475
June 2023
S
M
T
W
T
F
S
01

$485

02

$505

03

$540

04

$475

05

$540

06

$550

07

$530

08

$540

09

$550

10

$570

11

$530

12

$560

13

$565

14

$600

15

$625

16

$580

17

$580

18

$590

19

$615

20

$620

21

$580

22

$580

23

$580

24

$575

25

$560

26

$565

27

$570

28

$560

29

$595

30

$595
July 2023
S
M
T
W
T
F
S
01

$590

02

$595

03

$605

04

$610

05

$605

06

$610

07

$620

08

$595

09

$600

10

$610

11

$615

12

$625

13

$630

14

$635

15

$625

16

$630

17

$640

18

$635

19

$645

20

$640

21

$640

22

$630

23

$625

24

$635

25

$630

26

$635

27

$630

28

$630

29

$620

30

$605

31

$610
August 2023
S
M
T
W
T
F
S
01

$605

02

$605

03

$605

04

$610

05

$590

06

$565

07

$570

08

$555

09

$555

10

$550

11

$565

12

$530

13

$520

14

$510

15

$495

16

$490

17

$505

18

$525

19

$455

20

$405

21

$380

22

$365

23

$365

24

$395

25

$415

26

$395

27

$345

28

$320

29

$310

30

$310

31

$355
September 2023
S
M
T
W
T
F
S
01

$530

02

$525

03

$475

04

$450

05

$295

06

$290

07

$335

08

$370

09

$375

10

$315

11

$295

12

$280

13

$285

14

$320

15

$350

16

$350

17

$300

18

$275

19

$270

20

$275

21

$300

22

$325

23

$320

24

$275

25

$265

26

$270

27

$285

28

$315

29

$340

30

$330