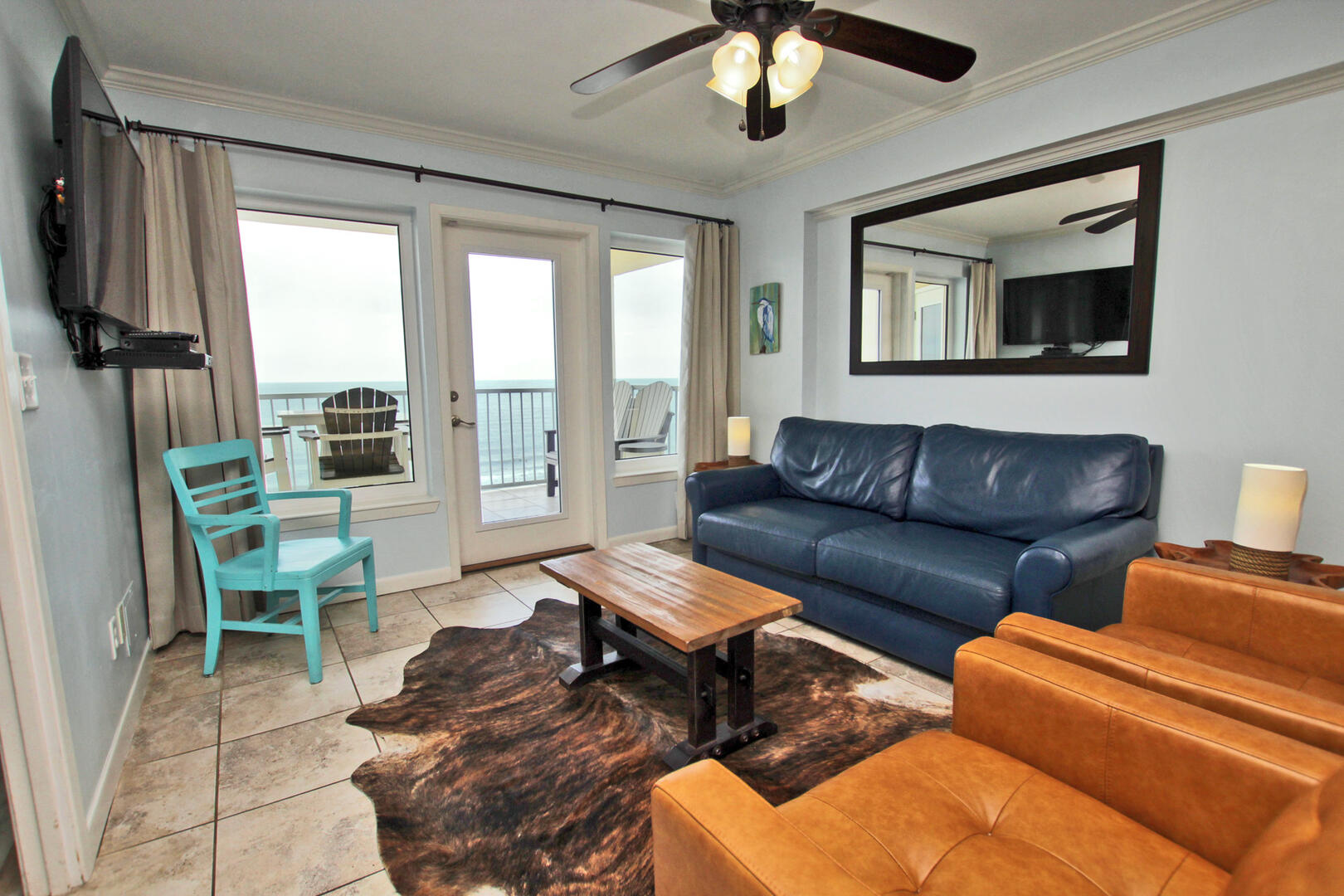 Live the beach life at Boardwalk 787. A 3-bedroom, 2-bathroom vacation rental, located in the heart of Gulf Shores will provide you with memories to last a lifetime. This 7th floor condo has all you need to get in the beach state of mind. Enjoy the sounds of the tides rolling in from a private gulf-front balcony. The living room will make you feel right at home, so kick back and relax. The kitchen is fully equipped with all you need to prepare meals for the family. There is seating for 4 people at the dining table, and 4 people at the breakfast counter.

The master bedroom has a king size bed, and access to the private balcony. The master bathroom has a walk-in shower. The 2nd bedroom has a queen size bed, and the 3rd bedroom has a king bed. The guest bathroom has a tub shower combo. There is also a queen size sofa sleeper in the living room, which makes this beach front condo able to sleep up to 8 people.

This 70-unit complex is in the heart of shopping, attractions, entertainment and dining, including the famous Sea-n-Suds restaurant on-site. While outdoors, enjoy the gulf side pool, sundeck and BBQ area.

FREE parking - 2 car maximum. This is a Non-Smoking Unit and No Pets are permitted. Must be 21 years of age to rent.

Bedding:
Master- King
Bedroom 2- Queen
Bedroom 3- King
Living Room- Sofa Sleeper Queen

409 East Beach Blvd. Gulf Shores, Alabama

Unit Location : West Corner
Area : Gulf Shores
Sleep Cap : 8
Bedrooms : 3.00
Internet Type : Free Public WiFi
Square Ft. : 1150
Master Bedroom : King
Building Orientation : Gulf Side
Guest Bedroom 1 : Queen
Guest Bedroom 2 : King
ilink : ilink Booking
Balcony View : Gulf Front
Number Bathrooms : 2.0
Complex : Boardwalk
TV - Unit : 4
Number of Beds : 3
Pool - Outdoor : Yes
BBQ Grills : Yes
Elevator : Yes
Parking Limit : 2 Vehicles
Rental Type : Condo
Sleeps : 8
Age Requirement : 25
Long Term : No
Pet Policy : No Pets
Pet Restriction : No Pets
Parking - Guest Purchase :
Thank you for submitting your review. It will be processed shortly!
Family vacation
by Bliss & Trey H
The second my 5 year old and I walked into this condo, we were literally jumping up and down! This place is gorgeous & has a breathtaking view. The entire condo is so beautiful & the location is perfect. We will be coming back!
Beyond Excellent!!!
by Todd P
This is, by far, the best condo We've stayed at. Incredibly beachy, beautifully decorated and it felt like home. More room than we could imagine, and the view... to die for. We will definitely be back! Tack on another 5 stars to give it a 10!
Home away from home!
by Sarah W
This condo is beautiful! I felt like it was a home away from home! We will definitely be staying again! Just to let you know that they have 2 sleeper sofas in living room. (normally these are uncomfortable) my kids said they were the best ever and choose to sleep on them every night! (no air mattress needed with these sleeper sofa beds!) Having the Sea and Suds restuarant right there was a huge plus when we didnt feel like cooking! Also you can actually hang out under the Sea and Suds restuarant to pass the time when quick thunderstorms roll through! A huge plus of not having to carry all your stuff back up to the room while it rains! I can not say enough how awesome this place is!!
Most Comfortable Stay!
by Darla L
I have stayed in Destin and Gulf Shores many times but this by far was the easiest and most comfortable condo ever! Everything about the place was easy... beach access close! ... the elevators close.... food REALLY close and a store across the street! Condo was beautiful with an amazing view! Everything we needed was in our reach! I will stay here again! Hopefully many times over
October 2022
S
M
T
W
T
F
S
01
02
03

$175

04
05
06
07
08
09
10
11
12
13
14
15
16
17
18
19
20
21

$180

22

$185

23

$175

24

$175

25
26
27
28
29
30

$175

31

$175
November 2022
S
M
T
W
T
F
S
01

$175

02

$175

03

$175

04
05
06
07

$175

08

$175

09

$175

10

$175

11
12
13
14
15
16
17
18
19
20
21

$225

22

$230

23

$225

24

$235

25

$255

26

$250

27

$225

28

$175

29

$175

30

$175
December 2022
S
M
T
W
T
F
S
01

$175

02

$175

03

$175

04

$175

05

$175

06

$175

07

$175

08

$175

09

$175

10

$175

11

$175

12

$175

13

$175

14

$175

15

$175

16

$175

17

$175

18

$175

19

$175

20

$175

21

$175

22

$175

23

$190

24

$185

25

$190

26

$190

27

$190

28

$215

29

$220

30

$225

31

$220
January 2023
S
M
T
W
T
F
S
01

$235

02

$240

03

$240

04

$175

05

$175

06

$175

07

$175

08

$175

09

$175

10

$175

11

$175

12

$175

13

$175

14

$175

15

$180

16

$185

17

$175

18

$175

19

$175

20

$175

21

$175

22

$175

23

$175

24

$175

25

$175

26

$175

27

$180

28

$175

29

$175

30

$175

31

$180
February 2023
S
M
T
W
T
F
S
01

$185

02

$185

03

$195

04

$190

05

$185

06

$185

07

$190

08

$190

09

$195

10

$200

11

$200

12

$195

13

$200

14

$200

15

$200

16

$230

17

$240

18

$240

19

$240

20

$240

21

$210

22

$275

23

$275

24

$275

25

$215

26

$215

27

$210

28

$210
March 2023
S
M
T
W
T
F
S
01

$210

02

$250

03

$250

04

$250

05

$250

06

$250

07

$245

08

$250

09

$255

10

$330

11

$330

12

$330

13

$335

14

$335

15

$335

16

$340

17

$340

18

$320

19

$320

20

$330

21

$330

22

$330

23

$330

24

$325

25

$335

26

$335

27

$345

28

$350

29

$355

30

$365

31

$370
April 2023
S
M
T
W
T
F
S
01

$385

02

$385

03

$375

04

$375

05

$370

06

$435

07

$420

08

$420

09

$380

10

$370

11

$365

12

$360

13

$375

14

$395

15

$405

16

$345

17

$220

18

$225

19

$220

20

$255

21

$285

22

$295

23

$230

24

$225

25

$230

26

$225

27

$260

28

$285

29

$285

30

$285
May 2023
S
M
T
W
T
F
S
01

$280

02

$285

03

$290

04

$330

05

$355

06

$360

07

$325

08

$260

09

$265

10

$280

11

$310

12

$345

13

$350

14

$320

15

$305

16

$315

17

$335

18

$690

19

$710

20
21
22

$365

23

$375

24

$395

25

$420

26

$565

27

$580

28

$560

29

$565

30

$440

31

$450
June 2023
S
M
T
W
T
F
S
01

$470

02

$470

03

$480

04

$460

05

$475

06

$485

07

$495

08

$505

09

$505

10

$510

11

$485

12

$510

13

$520

14

$520

15

$520

16

$525

17

$525

18

$535

19

$555

20

$560

21

$525

22

$525

23

$525

24

$520

25

$510

26

$515

27

$515

28

$510

29

$540

30

$540
July 2023
S
M
T
W
T
F
S
01

$540

02

$540

03

$540

04

$545

05

$550

06

$555

07

$560

08

$540

09

$545

10

$550

11

$555

12

$555

13

$570

14

$575

15

$575

16

$575

17

$580

18

$575

19

$575

20

$580

21

$580

22

$575

23

$565

24
25
26
27
28

$565

29

$555

30

$540

31

$540
August 2023
S
M
T
W
T
F
S
01

$535

02

$530

03

$535

04

$545

05

$530

06

$500

07

$505

08

$490

09

$490

10

$495

11

$510

12

$485

13

$445

14

$435

15

$420

16

$420

17

$435

18

$450

19

$420

20

$370

21
22
23
24
25
26
27

$320

28

$295

29

$285

30

$290

31

$320
September 2023
S
M
T
W
T
F
S
01

$530

02

$515

03

$470

04

$450

05

$260

06

$270

07

$305

08

$345

09

$335

10

$285

11

$265

12

$245

13

$255

14

$285

15

$315

16

$310

17

$260

18

$240

19

$230

20

$235

21

$265

22

$285

23

$285

24

$240

25

$230

26

$240

27

$245

28

$270

29

$290

30

$295
October 2023
S
M
T
W
T
F
S
01

$245

02

$240

03

$250

04

$245

05

$280

06

$460

07

$470

08

$405

09

$405

10

$240

11

$235

12

$265

13

$280

14

$275

15

$210

16

$200

17

$200

18

$200

19

$220

20

$235

21

$225

22

$200

23

$200

24

$200

25

$200

26

$200

27

$200

28

$200

29

$200

30

$200

31

$200