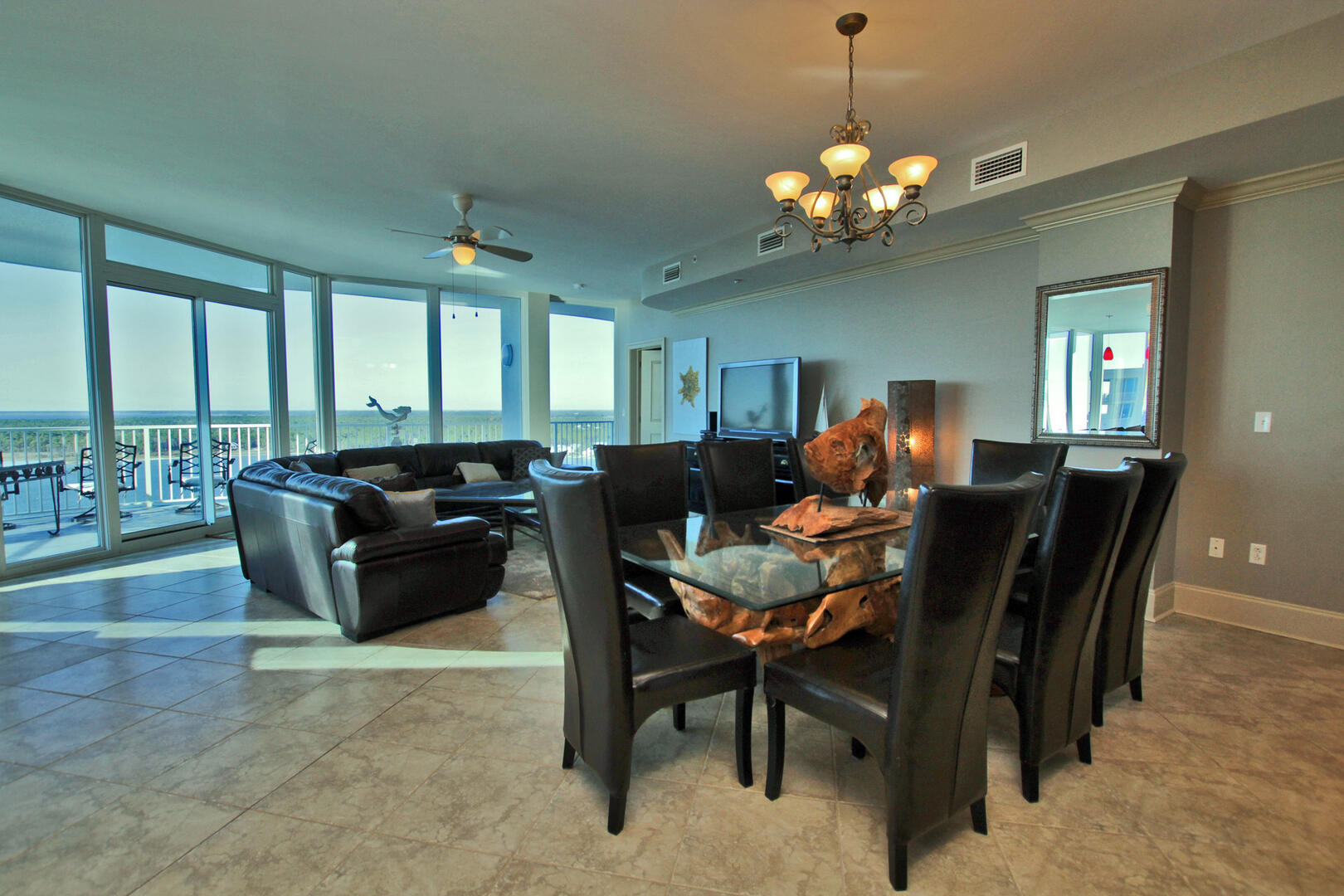 Discover your own magical vacation at the luxurious Bel Sole Penthouse. Gulf Shores is the coast's hidden jewel and Bel Sole, located on West Beach, sits nestled between the Gulf of Mexico and Little Lagoon. You feel like you are on your own secluded island as the azure skies and stunning water vistas surround you and make you forget the usual hustle and bustle. Although you are removed from the typical beach congestion, all the best shopping, restaurants, championship golf courses and other recreational activities the area has to offer are just minutes away. You will be close to the Hangout, home of the world famous Hangout Music Festival and our Annual Shrimp Fest! Bel Sole is a highly coveted, low density building which means finding space at the pool and getting on the elevator is refreshingly easy to do. Our west end corner Penthouse offers the ultimate luxury beach vacation experience! This 2711 sq ft condo features not 2 Master Suites as well as floor to ceiling windows with unobstructed panoramic views of Little Lagoon and the Gulf of Mexico. But wait, there's more! You'll enjoy countless amenities such as flat screen TVs with accompanying DVD players in every room, a fully-equipped kitchen, wet bar with ice maker, stack W/D, wireless internet, and customized upscale furnishings! The Master Suites offer the finest of everything! Both feature plush bedding, large flat screen TVs, private balcony access, and separate showers with accompanying Jacuzzi tubs and breathtaking views of the Gulf and Lagoon. When you're not relaxing in the lap of luxury indoors, get outdoors and enjoy the sun and fresh air either poolside or lounging on the beach, which is accessible across the street via a private boardwalk. If rain keeps the sun away, you can take a refreshing swim in the heated indoor pool or work on your fitness routine in the fully-equipped exercise room. This nonsmoking unit does not allow pets. Monthly stays are permitted from November to March 1. Make your dream vacation a reality at Bel Sole!
Unit Location : West Corner
Area : Gulf Shores
Sleep Cap : 8
Bedrooms : 4.00
Internet Type : Free Unit WiFi
Square Ft. : 2711
Master Bedroom : King
Building Orientation : Across the Street
Guest Bedroom 1 : Queen
Guest Bedroom 2 : Queen
Guest Bedroom 3 : Queen
ilink : ilink Booking
Balcony View : Waterfront
Number Bathrooms : 4.0
Complex : Bel Sole
TV - Unit : 5
Number of Beds : 4
Pool - Outdoor : Yes
Pool - Indoor : Yes
Jacuzzi : Yes
Fitness Room : Yes
Elevator : Yes
Parking Limit : 2 Vehicles
Rental Type : Condo
Sleeps : 8
Age Requirement : 25
Long Term : No
Pet Policy : No Pets
Pet Restriction : No Pets
Parking - Guest Purchase :
Thank you for submitting your review. It will be processed shortly!
The location of the property is great and the room was very clean. The parking is absolutely terrible nothing is enforced and had multiple people parking in our spots just to go to the beach-Reviewed on VRBO
We had a great time at 203 Beachview. Had one issue with the bathroom sink, but it was taken care of quickly and with out disruption of our stay.- Reviewed on Google
It was a nice short stay right by the beach!
by Lynn K
It was a small place but had almost everything we needed. No oven for cooking anything though. Other than that it was just fine. -Reviewed on VRBO
September 2022
S
M
T
W
T
F
S
01
02
03
04
05
06
07
08
09
10
11
12
13
14
15
16
17
18
19
20
21
22
23
24
25

$235

26

$235

27

$235

28

$235

29

$235

30

$245
October 2022
S
M
T
W
T
F
S
01

$240

02
03
04
05
06
07
08
09
10
11
12
13

$235

14

$260

15

$255

16
17
18
19
20
21
22
23
24
25
26
27
28

$235

29

$235

30

$235

31

$235
November 2022
S
M
T
W
T
F
S
01

$235

02

$235

03

$235

04

$235

05

$235

06

$235

07

$235

08

$235

09

$235

10

$235

11

$235

12

$235

13

$235

14

$235

15

$235

16

$235

17

$235

18

$235

19

$235

20
21
22
23
24
25
26

$255

27

$235

28

$235

29

$235

30

$235
December 2022
S
M
T
W
T
F
S
01

$235

02

$235

03

$235

04

$235

05

$235

06

$235

07

$235

08

$235

09

$235

10

$235

11

$235

12

$235

13

$235

14

$235

15

$235

16

$235

17

$235

18

$235

19

$235

20

$235

21

$235

22

$235

23

$260

24

$265

25

$270

26

$270

27

$275

28

$300

29

$305

30

$310

31

$320
January 2023
S
M
T
W
T
F
S
01

$320

02

$325

03

$325

04

$235

05

$235

06

$235

07

$235

08

$235

09

$235

10

$235

11

$235

12

$235

13

$235

14

$235

15

$235

16

$235

17

$235

18

$235

19

$235

20

$235

21

$235

22

$235

23

$235

24

$235

25

$235

26

$235

27

$235

28

$235

29

$235

30

$235

31

$235
February 2023
S
M
T
W
T
F
S
01

$235

02
03
04
05
06
07
08
09
10
11
12
13
14
15
16
17
18
19
20
21
22
23
24
25
26
27
28
March 2023
S
M
T
W
T
F
S
01

$265

02

$265

03

$265

04

$275

05

$265

06

$265

07

$265

08

$265

09

$270

10

$365

11

$375

12

$370

13

$370

14

$375

15

$360

16

$355

17

$370

18

$350

19

$345

20

$350

21

$360

22

$345

23

$340

24

$350

25

$365

26

$375

27

$365

28

$390

29

$370

30

$380

31

$390
April 2023
S
M
T
W
T
F
S
01

$410

02

$415

03

$400

04

$425

05

$390

06

$450

07

$450

08

$445

09

$425

10

$400

11

$415

12

$380

13

$400

14

$410

15

$435

16

$400

17

$265

18

$265

19

$265

20

$265

21

$285

22

$320

23

$265

24

$265

25

$265

26

$265

27

$265

28

$285

29

$320

30

$265
May 2023
S
M
T
W
T
F
S
01

$265

02

$265

03

$270

04

$285

05

$310

06

$330

07

$295

08

$295

09

$295

10

$300

11
12
13
14

$325

15

$330

16

$335

17

$345

18

$710

19

$740

20

$740

21
22
23
24
25
26
27

$600

28

$595

29

$615

30

$465

31

$475
June 2023
S
M
T
W
T
F
S
01

$485

02

$505

03

$505

04

$495

05

$550

06

$560

07

$565

08

$560

09

$575

10

$550

11

$540

12

$555

13

$565

14

$560

15

$605

16

$575

17

$575

18

$605

19

$610

20

$615

21

$575

22

$575

23

$575

24

$570

25

$565

26

$565

27

$565

28

$560

29

$590

30

$590
July 2023
S
M
T
W
T
F
S
01

$590

02

$600

03

$605

04

$610

05

$600

06

$605

07

$610

08

$585

09

$595

10

$605

11

$610

12

$615

13

$625

14

$630

15

$625

16

$625

17

$635

18

$630

19

$635

20

$630

21

$630

22

$620

23

$620

24

$625

25

$620

26

$625

27

$625

28

$620

29

$610

30

$600

31

$600
August 2023
S
M
T
W
T
F
S
01

$595

02

$595

03

$595

04

$600

05

$590

06

$570

07

$570

08

$560

09

$555

10

$550

11

$565

12

$525

13

$495

14

$480

15

$460

16

$450

17

$470

18

$485

19

$445

20

$400

21

$385

22

$370

23

$365

24

$400

25

$415

26

$390

27

$350

28

$330

29

$320

30

$320

31

$360
September 2023
S
M
T
W
T
F
S
01

$535

02

$495

03

$470

04

$450

05

$305

06

$315

07

$350

08

$385

09

$345

10

$325

11

$305

12

$290

13

$305

14

$325

15

$355

16

$315

17

$295

18

$265

19

$265

20

$270

21

$285

22

$315

23

$295

24

$270

25

$265

26

$275

27

$285

28

$305

29

$325

30

$325